What is 'Adaptive Intelligent Routing' technology?
2023-04-17
Greetings!
GearUP Booster has released a new cutting-edge technology — Adaptive Intelligent Routing (AIR)! With this technology, you will adaptively remain on the fastest server during gameplay, ensuring the best performance possible.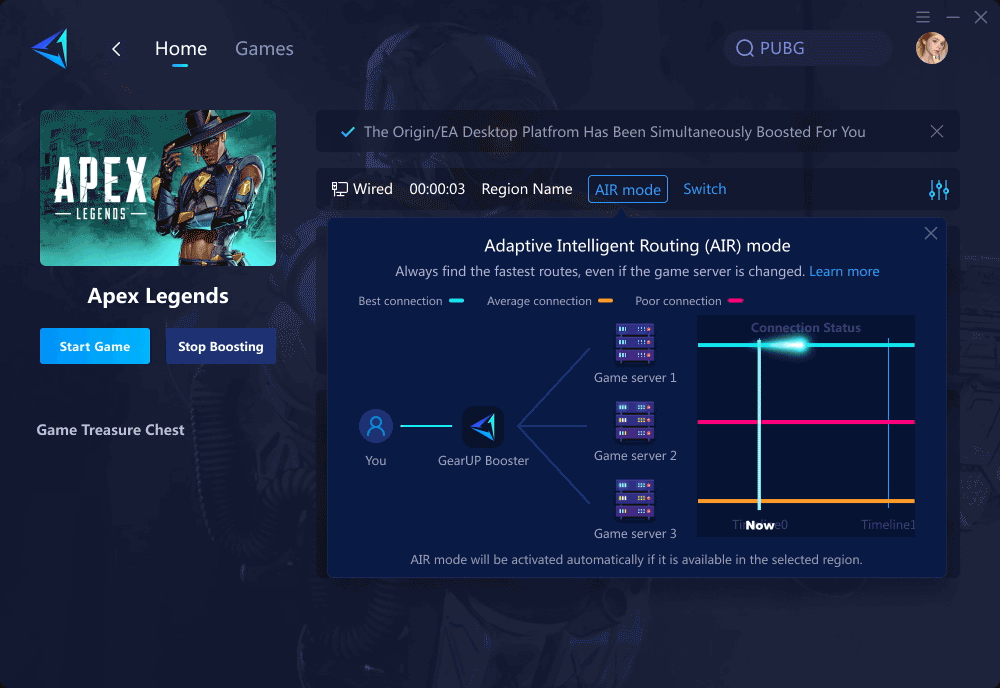 To help you better understand AIR, we have prepared the following FAQ:
What is Adaptive Intelligent Routing (AIR) technology?
Games have multiple servers within a region to move players around based on matchmaking needs and server capacity. However, AIR connects our users to multiple servers simultaneously and ensures the best connection on each server. Switching servers with AIR prevents you from disconnecting and keeps your latency minimal. With the help of GearUP Booster's dedicated network, you will always remain on the best available server regardless of how the game servers change. As shown in the GIF above, your server connection is intelligently adaptive!
Why do games switch servers (Why do I need AIR)?
Games often switch players to different regions to speed up the matchmaking queues based on the number of players (i.e., CoD, FIFA, Roblox, etc.). With AIR, players reduce latency to a minimum without changing settings regardless of which server and region they're assigned to, giving you an advantage during each match. Of course, if you switch your server region manually in games like Fortnite, AIR will also help you locate the best server and connect to the fastest route. Rest assured that switching servers will not cause your game to drop out, and you won't need to boost your game again!
What's the difference between AIR and Multipath Connection?
AIR is the latest industry-leading technology developed by GearUP Booster. Its principle is to connect to multiple servers at once, allowing for dynamic switching between them without compromising network connection. Multipath Connection is GearUP Booster's long-standing feature that dynamically switches between routes within the same server. However, switching routes would yield little effect if the server is congested or has a poor connection.
How do I enable AIR in GearUP Booster?
You don't have to do a thing! Find a game, select a region/server, and we will enable AIR for you if the game supports multi-server connection and display it on your dashboard as shown in the image below. If you see the "AIR" tag, it means the technology is enabled, and you are enjoying the fastest connection possible! Please enjoy your game to the fullest!