Why NBA 2K24 can't Connect To Internet? How to Fix?
2023-09-08
NBA 2K24 is a popular game that provides an immersive gaming experience. However, some players encounter difficulties connecting to the internet while playing NBA 2K24 online, which hampers their ability to engage in various online activities. In this article, we will identify the reasons behind this issue and provide solutions to help you overcome the problem.
Negative Impact of NBA 2K24 Inability to Connect to the Internet
One of the main causes of NBA 2K24 connectivity issues is related to server problems. Due to the game's global popularity, servers often become congested as numerous dedicated players join, resulting in connection difficulties. Additionally, if there are server downtimes or interruptions on the NBA 2K24 servers, users may also face connection problems. Unstable or intermittent internet access is another reason why NBA 2K24 fails to connect to online services, impacting smooth gameplay.
Using GearUP Booster to Resolve NBA 2K24 Vonnectivity Issues
While we cannot control server-related problems in NBA 2K24, there are effective tools available for addressing network connectivity issues caused by our own internet connections. GearUP Booster is a notable solution that optimizes your connection route by deploying network nodes around the globe. This boosts stability and significantly reduces instances where NBA 2K24 cannot connect to the internet. Unlike VPN services, GearUP Booster is designed specifically for gaming and entertainment purposes and supports a wide range of games on various platforms. Here are some key advantages:

Effective resolution for NBA 2K24 connectivity issues.

Reduced latency and packet loss for stable network performance.

Offers a free trial period of three days with subscription-based payment.

Exclusive adaptive intelligent routing technology.

User-friendly interface suitable for both beginners and experts.

Professional technical support team available for assistance.
Step 1: Download GearUP Booster

Step 2: Search NBA 2K24.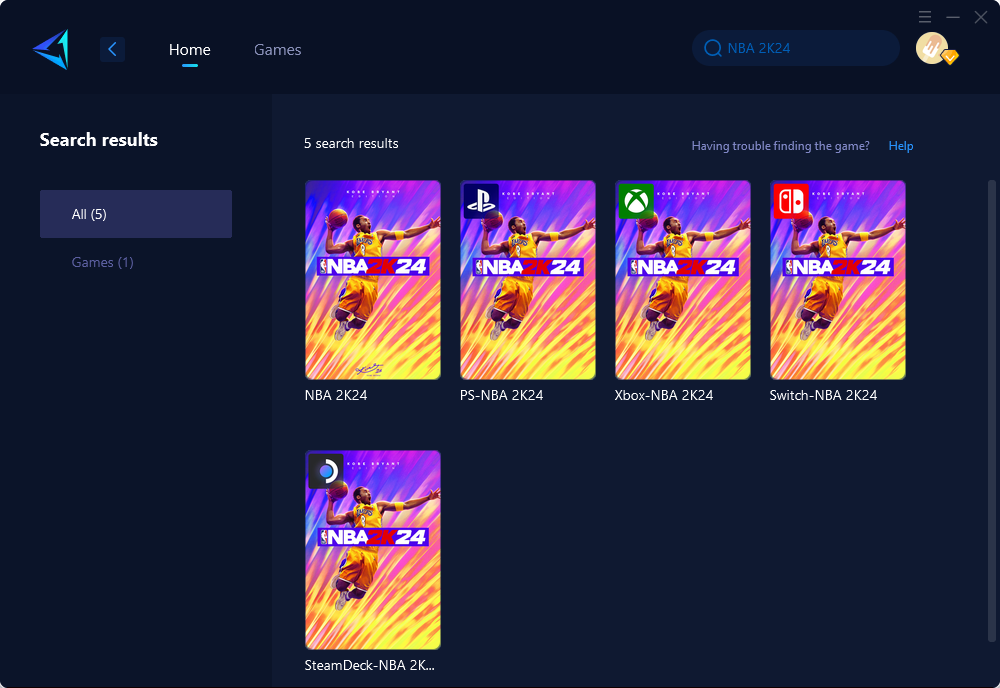 Step 3: Select Game Server and Node.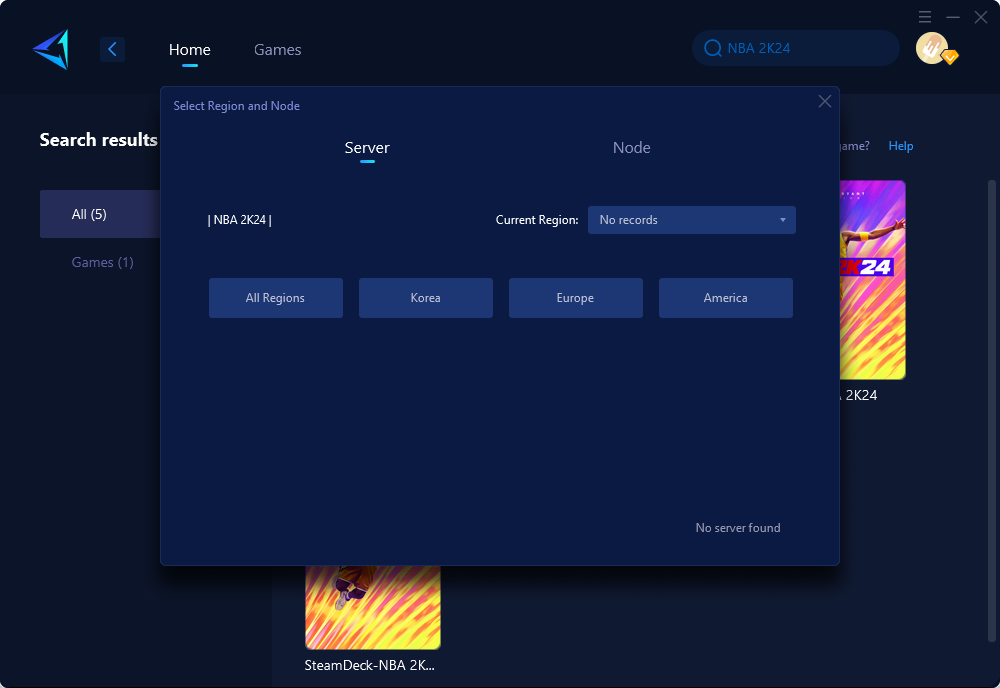 Step 4: Select the "Confirm" button and follow the setting steps on your console.
For console gamers playing NBA 2K24, an alternative solution called Hyperev hardware can be used. Hyperev connects between your router and console via an Ethernet cable without requiring PC Share Mode or any separate computer usage; it can be easily controlled through a phone app with one-click boosting functionality. Notably, Hyperev also features Wi-Fi capability for expanding your wireless network coverage zone and can be purchased from platforms like Amazon and AliExpress.
Other Methods to Fix This Network Issue
Firstly, you can troubleshoot basic problems with these steps:

Check your internet connection speed for consistent connectivity; ensure that Wi-Fi options show "Connected" status.

Verify if the NBA 2k24 servers are running smoothly by checking official announcements regarding downtime or maintenance on the developers' website.

Reboot your gaming device or restart it if temporary errors or glitches are affecting gameplay.
If these basic methods prove ineffective, you can try advanced troubleshooting techniques with caution as they involve complex steps that may lead to irreversible errors on your computer or console:

Disconnect other applications consuming your internet bandwidth: Close any other programs or applications that are running in the background and utilizing your internet connection to ensure optimal bandwidth for NBA 2K24.

Update network drivers: Check for updates for your network drivers and install the latest version to ensure compatibility and improved network performance while playing NBA 2K24.

Run network troubleshooting processes: Utilize built-in network troubleshooting tools or third-party software to diagnose and fix any connectivity issues on your network, helping to resolve potential obstacles preventing NBA 2K24 from connecting to the internet smoothly.
Summary
In Summary, the inability of NBA 2K24 to connect to the internet is a significant issue that troubles players. However, it is not an insurmountable problem and can be resolved. In most cases, all we need is a simple tool because not everyone possesses professional knowledge and skills. That's when GearUP Booster comes in to assist you. Whether you are a loyal NBA 2K fan or planning to purchase NBA 2K24, we recommend giving GearUP Booster a try.