Is Wayfinder Support Cross-Platform Gaming?
2023-08-14
Wayfinder is an upcoming free-to-play online action RPG developed by Airship Syndicate and Digital Extremes. With Airship Syndicate's experience in action games like Battle Chasers and Darksiders Genesis, and Digital Extremes' expertise in online action games like Warframe, their collaboration brings Wayfinder to life. The game is set to launch in Early Access for PlayStation 5, PlayStation 4, and PC via Steam on August 15. Publisher Digital Extremes and developer Airship Syndicate have introduced new features such as the playable character Venomess, Founder's Packs, in-game housing systems, and the Reward Tower.
Best Network Booster For Wayfinder Cross-Platform Play
Many players have been curious about whether Wayfinder supports cross-platform play. The game's official response is affirmative, not only allowing cross-platform gameplay but also cross-platform saves. However, this means that there are higher network requirements due to an increased number of players playing together. To ensure a smooth gaming experience with lower latency, less packet loss, and optimized network routes, GearUP Booster is the ideal choice. Designed specifically for gaming, GearUP Booster utilizes a global network of intelligent nodes and route optimization to provide the best network experience. Apart from these advantages, there are many other features to explore.
Features:
Effectively reduce latency in Wayfinder Cross Platform.

Offer a 3-day free trial for new users.

Exclusive boosting technology.

Subscription-based pricing, offering freedom and affordability.

Rich gaming boosting experience.
Step 1: Download GearUP Booster

Step 2: Launch the program, search Wayfinders.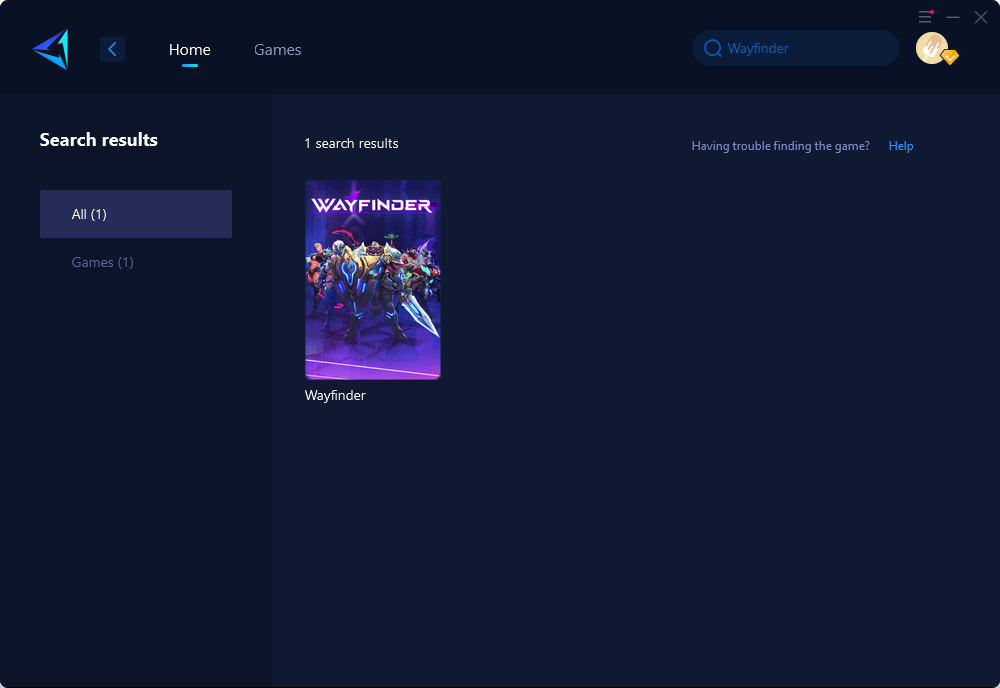 Step 3: Select Server and Node.
Step 4: Click on the "Confirm" button, and GearUP Booster will optimize your network.
During the Early Access phase of Wayfinder, both PC and PlayStation players will have the opportunity to immerse themselves in the game with complete cross-platform play and cross-save support. By purchasing a Founder's Pack, players can unlock these exciting features and embark on their epic journeys together.
The Founder's Packs are available in different tiers, catering to various preferences and offering a range of benefits. These packs grant access to two seasons of Early Access content, ensuring players have ample content to explore and enjoy. Additionally, each tier of the Founder's Pack comes with its own set of thrilling, unique, and time-limited rewards.
One of the standout rewards is instant access to the character Venomess. This formidable and captivating character adds a new dimension to gameplay, allowing players to experience the game from a fresh perspective. Furthermore, players can also unlock a more powerful "Heroic" version of the warmage Kyros, who becomes a force to be reckoned with on the battlefield.
To make the gaming experience even more rewarding, Wayfinder introduces the Reward Tower, a unique take on the traditional Battle Pass concept. Within the interactive Reward Tower, players can earn a vast array of seasonal customizations and other exclusive rewards by progressing through different paths. As players explore, level up, and earn keys, they unlock rooms in the Reward Tower that contain coveted items such as exclusive characters, Sprays, Charms, Pets, and various cosmetic enhancements.
What sets the Reward Tower apart is its everlasting nature. Once purchased, a season's Reward Tower never expires, allowing players to access and enjoy its rewards at any time. This provides players with the freedom to customize their gameplay experience and engage with the content that resonates with them the most.
It's worth mentioning that all Founder's Pack options can be upgraded through the store platform of choice. By selecting premium Founder's Pack options like the Awakened Pack or Exalted Pack, players can unlock additional exclusive rewards and iconic items. These premium packs offer even more exciting content and further enhance the gameplay experience for dedicated fans.
In addition to the enticing rewards and cross-platform capabilities, Wayfinder also introduces an aspirational housing system called the Apartment. This unique feature allows players to personalize their space and showcases their achievements. Players can equip powerful artifacts within their Apartments, granting their Wayfinders buffs and boons that can enhance their abilities in the game. Moreover, the Apartment serves as a canvas for players to express their creativity by decorating it according to their preferences.
In conclusion, Wayfinder is an exciting online action RPG that offers cross-platform gameplay and saves. With GearUP Booster's network optimization, players can enjoy smooth gaming experiences with reduced latency and packet loss. The Founder's Packs provide access to exclusive content, including unique characters and the Reward Tower, giving players the freedom to customize their experience. Don't miss out on the opportunity to embark on epic adventures in Wayfinder, where gaming knows no boundaries.