What is Warzone Mobile Minimum Equipment?
2023-11-06
Call of Duty: Warzone Mobile combines action and Battle Royale elements, offering a realistic and addictive gaming experience. Activision has redesigned the gameplay specifically for mobile devices, making it available on Android and iOS platforms. Currently, the game is in the testing phase and limited to Australia, Chile, Norway, and Sweden. It is an official AAA-level game that requires certain hardware specifications for optimal gameplay. This article provides an overview of the minimum equipment requirements and how to enhance your gaming experience.
Warzone Mobile Minimum Equipment
To ensure smooth gameplay, it is recommended to meet the following minimum equipment requirements:

Apple: iPhone 8+ or higher.

Android: Adreno 618 or better.

Apple memory: 4GB RAM or better.
The above specifications are the official requirements provided by the game. It is recommended to choose hardware that meets these specifications in order to achieve the best gaming performance.
How to Fix Warzone Mobile Network Issues
GearUP Mobile Booster is an effective solution for players facing difficulties participating in Warzone Mobile testing due to regional restrictions. This app utilizes a network of global nodes to establish connections with the corresponding servers through the most optimal pathways. By doing so, GearUP bypasses geographical limitations and enables players to access the game from any location.
The unique feature of GearUP Mobile Booster is its prioritization of game traffic efficiency and stability. Unlike traditional VPNs, GearUP focuses specifically on delivering the best connection status for gaming. This ensures smoother gameplay and reduced latency, enhancing the overall gaming experience.
Despite its complex underlying principles, GearUP Mobile Booster is incredibly easy to use. Once you have downloaded and installed the app, it automatically detects Warzone Mobile on your device. With just one click, you can boost your game's performance without requiring any specialized networking knowledge. This user-friendly approach allows gamers to effortlessly enjoy Warzone Mobile without worrying about complicated setup or troubleshooting.
Furthermore, while using GearUP, you can rest assured knowing that your data remains secure. Whether connecting to servers worldwide or regionally (official servers), GearUP guarantees encrypted transmission of your data. This eliminates concerns regarding potential security issues related to cross-regional connections and protects the integrity of your gaming account.
In addition to its convenience and security features, GearUP Mobile Booster offers several benefits:

Effective resolution of network-related issues in Warzone Mobile.

Accessibility anytime and anywhere with its user-friendly interface.

Compatibility with thousands of supported games.

Low energy consumption and minimal memory usage for optimized device performance.

Multilingual support ensures a wider user base can easily navigate and utilize the app's functions.
How to Install GearUP Mobile Booster
Visit the official GearUP website and download GearUP Mobile Booster through their provided link.
After installation, launch the game using GearUP Booster, which will automatically identify it in your game list. Simply click "Boost" to start playing!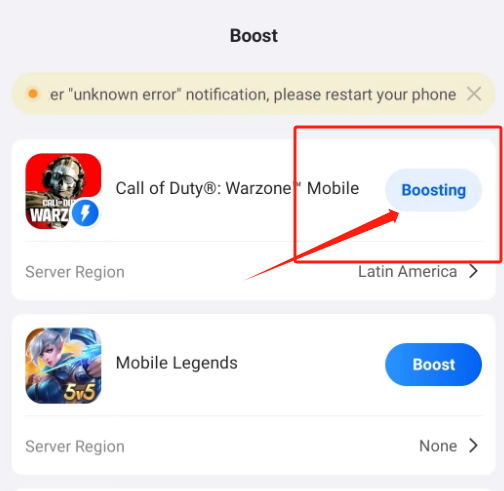 In summary, Call of Duty: Warzone Mobile has specific hardware requirements for a seamless gaming experience. Meeting these specifications ensures optimal performance while utilizing tools like GearUP Mobile Booster can enhance gameplay further by overcoming regional restrictions and improving network connectivity efficiency.