How to Fix Warzone Mobile Can Not Connect to Data Center
2023-11-06
Call of Duty: Warzone Mobile is a popular first-person shooter (FPS) game that offers a realistic and addictive Battle Royale experience. Many players have encountered an unexpected error while trying to connect to a data center during gameplay, leaving them unsure of how to resolve it. In this article, we will analyze the possible reasons behind this issue and provide solutions.
Why Warzone Mobile Can Not Connect to Data Center
One of the main reasons for this error is network fluctuations, which can go unnoticed by users. Consequently, many players have been unable to find a solution for this issue.
Resolving the Error with GearUP Booster
To address the problem of being unable to connect to a data center in Warzone Mobile, optimizing your network is essential. However, adjusting network settings without proper knowledge can lead to different errors. In such cases, you should consider using professional network optimization software like GearUP Mobile Booster. With its intelligent algorithms, GearUP automates the resolution of common network issues and ensures an optimal connection for your Warzone Mobile battles.
It's worth noting that the Warzone Mobile testing phase is available only in selected regions. Cross-region access challenges can also be tackled with GearUP's assistance. Differentiating itself from traditional VPN services, GearUP prioritizes gaming traffic, reducing latency and packet loss while bypassing network congestion.
Additionally, GearUP ensures secure data transmission through its encrypted protocols, protecting against account theft and data loss—features that have received positive feedback from many players.
Advantages of GearUP Mobile Booster:

Optimizes your Warzone Mobile network.

One-click boosting for a smooth gaming experience.

Years of boosting experience and exclusive technologies.

Low power consumption and minimal memory usage.

Supports multiple languages and thousands of games.
How to Install GearUP Mobile Booster
Visit the GearUP official website and download GearUP Mobile Booster.
Once installed, launch the game using GearUP Booster.
The booster will automatically detect the game in its list; click on "Boost" to initiate the game!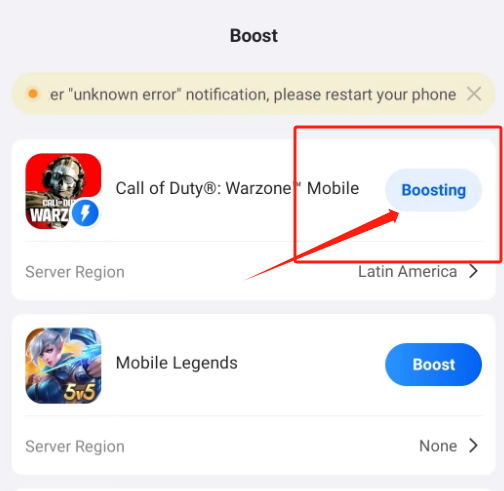 Conclusion
By utilizing GearUP Mobile Booster, players experiencing issues connecting Warzone Mobile to data centers can optimize their networks and enjoy an enhanced gaming experience. With its simplified installation process and advanced features tailored for gaming traffic prioritization and security, GearUP provides an effective solution for resolving connectivity problems in Warzone Mobile.