Reason & Fixes For No Man's Sky Crashing
2023-10-11
No Man's Sky is a science fiction-themed game that requires players to explore and survive in a procedurally generated infinite universe. In the article, we will explore various reasons that lead to the crashing of the game 'No Man's Sky'. From technical glitches like insufficient system requirements, outdated driver software, overcrowded cache data to in-game settings and bugs, there are multiple factors that can interfere with the smooth running of the game.
Using GearUP Booster to Solve No Man's Sky Game Crashes
To address the issues causing No Man's Sky to crash, one potential solution is GearUP Booster. This game optimizer service works wonders in reducing latency, preventing packet loss, and stabilizing your network connection. This in turn could alleviate some of the technical challenges that lead to the crashes in No Man's Sky, such as a struggling network connection.
The GearUP Booster supports over a thousand games and is compatible across all gaming platforms, rendering it a flexible tool for most gamers. Its user-friendly interface makes it accessible even to those who are not tech-savvy. The exclusive Adaptive Intelligent Routing technology ensures that you suffer from less packet loss, which can significantly enhance your gaming experience.
Step 1: Please click the provided button to initiate the download of GearUP Booster.

Step 2: Locate and search for "No Man's Sky."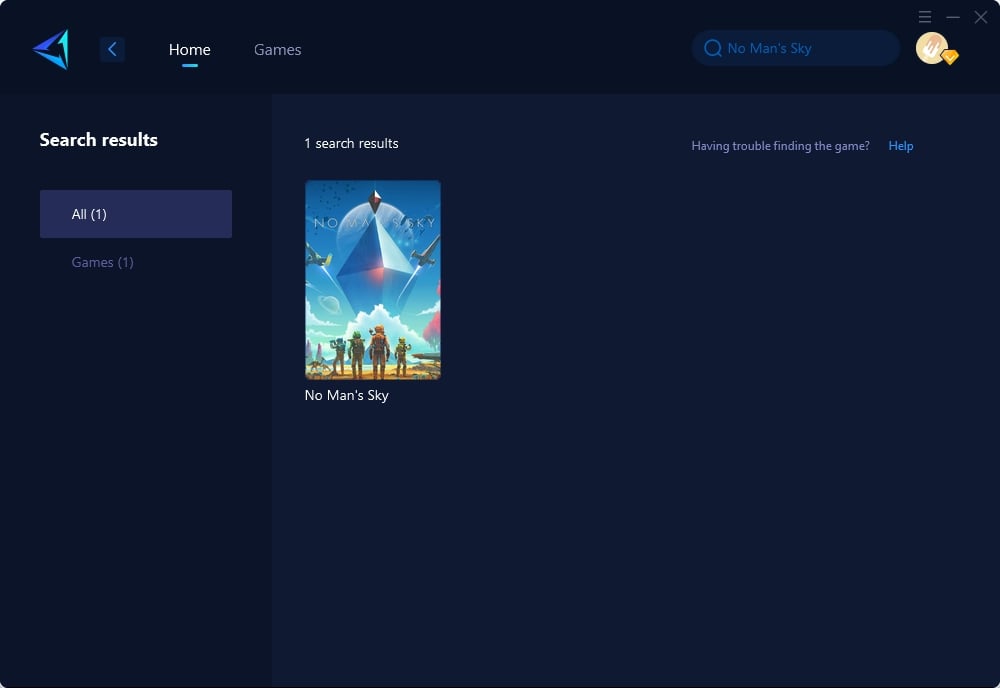 Step 3: Choose the appropriate server and node.

Step4. After clicking "confirm," GearUP will automatically optimize your network settings.
Furthermore, GearUP Booster also prioritizes bandwidth for game downloads to make sure you can get back to exploring the vast cosmos of No Man's Sky in no time. And to top it all off, there's a free three-day trial available, allowing you to experience the benefits first-hand without making an immediate commitment.
Other Methods For Crashing
1. Update your Graphics Drivers

Outdated or corrupted graphics drivers can lead to crashing problems. Ensure that you have the most up-to-date graphics drivers installed for your graphics card.

Manual update: Open Device Manager from the Start Search box. Go to Display adapters and right-click on your graphics driver. Select the Update driver option. Choose the Search automatically for drivers option. Wait for the process to complete and obtain the latest driver version.
Automatic update: If manually updating your GPU driver seems difficult or time-consuming, you can use a dedicated third-party app like Outbyte Driver Updater. Download and install the app, then launch it to start scanning. Click Activate & Update to fix any errors.
2. Delete the Shader Cache

The Shader cache is a game data file that is stored on your PC when you install the game. If these files become corrupted, it can lead to crashing issues in No Man's Sky. To resolve this problem, follow these steps:

Open File Explorer by typing "File Explorer" in the search box and pressing Enter.
Copy and paste the following location path in the File Explorer search box: C:\SteamLibrary\steamapps\common\No Man's Sky\GAMEDATA\SHADERCACHE
In this location, select all the files within the SHADERCACHE folder.
Right-click on the selected files and choose Delete.
Finally, check if the game works properly after performing these steps.
3. Update the game

Ensure that you are using the most up-to-date version of No Man's Sky. You can verify and download updates either from the game's settings menu or by accessing the developer's website.
4. Verify the game files

If you encounter crashes after installing updates or modifying the game, it is possible that your game files have become corrupted. To address this issue, you can attempt to verify the game files using Steam. Here are the steps to do so:

Launch the Steam client and navigate to the Library section.
Locate and select No Man's Sky, then click on Properties .
Switch to the Local files tab.
Click on Verify integrity of game files .
Examine the results to determine if any corrupted files are found.
5. Reset the game settings

Resetting the game settings to their default values can be a helpful solution for addressing crash problems. To perform this action, navigate to the game's settings menu and choose the "Reset Settings" option.
6. Try running the game in Safe Mode

Safe Mode enables you to run the game using the lowest settings, aiding in troubleshooting graphics settings or mods-related problems. To initiate Safe Mode, access the Steam client and navigate to the Library section. Right-click on the game, then select Properties . Head to the General tab and locate the Launch options field. Input -safe and click the X button to exit. Now, you can launch the game in Safe Mode.
Some Other Errors
1. No Man's Sky MSVCR100.dll error

When encountering the error message "MSVCR100.dll is missing from your computer" upon starting the game, preventing you from launching and playing it, please follow the solution provided below to resolve this issue.
Solution - This error is typically caused by the absence of VC++ Redist 2010. However, this issue has been addressed and resolved in a recent update.
If you receive the error message "Either Steam isn't running or you don't have a suitable license," it indicates that the VC 2013 Redist, which is installed by Steam, might be corrupted on your system. To fix this, please download the VC 2013 Redist from the following link: (https://www.microsoft.com/en-us/download/details.aspx?id=40784)
2. No Man's Sky OpenGL Error
You may encounter this problem if your video card does not meet the minimum requirement of OpenGL 4.5. It is also important to ensure that you have the latest software installed for your video card. If that is not the issue, you can try opening the file mentioned, "TKGRAPHICSSETTINGS," in Notepad to check your OpenGL version. The file path for this is: Steamapps/common/No Man's Sky/Binaries/SETTINGS/TKGRAPHICSSETTINGS
3. No Man's Sky FPS Drops & Stutter

This error is frequently encountered in the game, with many players expressing their concerns regarding performance problems, particularly related to low FPS and FPS drops. To address these performance issues, please refer to the following tutorial.
4. No Man's Sky Sound Bug

If you are experiencing sound distortion in the game, there is a straightforward solution to resolve it. Many players have reported this issue, but fortunately, you can easily fix it by following a simple workaround. Open the sound options in Windows and adjust the audio quality to DVD quality (24-bit, 44100Hz). This should help alleviate the sound cracking issue.
Conclusion
In summary, this article delves into the various reasons causing the sci-fi themed game No Man's Sky to crash, such as technical glitches, outdated driver software, and overcrowded cache data. It discusses solutions like using the GearUP Booster, which helps reduce latency and stabilize the network connection. The article further provides several methods for improving game performance, such as updating graphics drivers, deleting the Shader Cache, updating the game, verifying the game files, resetting the game settings, and running the game in Safe Mode. Potential issues such as the MSVCR100.dll error, OpenGL Error, FPS Drops & Stutter, and Sound Bug are also addressed.