Modern Warfare 2 & Warzone 2 Season 5 Battle Pass Key Points
2023-08-02
The Modern Warfare 2 Season 5 Battle Pass is set to deliver an array of fresh content, expanding on the already existing seasonal offerings as the MW2 year reaches its final weeks. With new additions to both multiplayer and Warzone Battle Royale, players can expect an enhanced gaming experience. One notable inclusion is the revamped version of the popular Call of Duty 4 map, Strike.
Additionally, a premium variant of the Battle Pass called BlackCell has been introduced by Call of Duty. This premium version not only unlocks additional rewards but also provides tier skips, allowing players to progress at a faster pace. Below, you will find comprehensive information regarding the Battle Pass for the new season.
In Season 5, the price for BlackCell is set at $24.99, just like in previous seasons. Purchasing BlackCell grants you the following rewards:

Full access to the Season 5 Battle Pass, along with 20 Tier Skips (25 on PlayStation). This includes a total of 1,400 COD Points that you can earn throughout the Battle Pass.

An instant reward of 1,100 COD Points.

A new Operator named Arthur, who is exclusive to BlackCell.

Arthur's loyal companion, Merlin the dog, will also be unlocked as a companion.

The virtual announcer, Battle Assistant "Gwen," will be available to provide assistance.

You will receive a pro-tuned weapon blueprint, a unique finishing move, a custom parachute, and custom contrails.

Immediate unlocking of adjacent Battle Pass sectors surrounding the BlackCell sector.

Exclusive BlackCell content includes eight alternate Operator skins, six weapon blueprints with BlackCell tracer rounds, and two vehicle skins.
Exciting Features and Rewards in MW2 & Warzone 2 Season 5 Battle Pass
Operators equipped with blackcell blueprint variants that are marked in-game as having tracer rounds can anticipate visually enhanced armaments adorned with black and gold accents, as well as other effects.
Players who choose to upgrade to blackcell after purchasing the battle pass will be refunded with an additional 1,100 COD points.
Furthermore, the inclusion of the tactical pets companion feature adds an exciting new element to enhance the gameplay experience.
Blackcell exclusive operator Arthur has a K9 Unite companion. Players will have the option for the first time to bring companions alongside them in multiplayer, Warzone, and DMZ. The tactical pets cannot be harmed in any way and only play a role in finishing moves.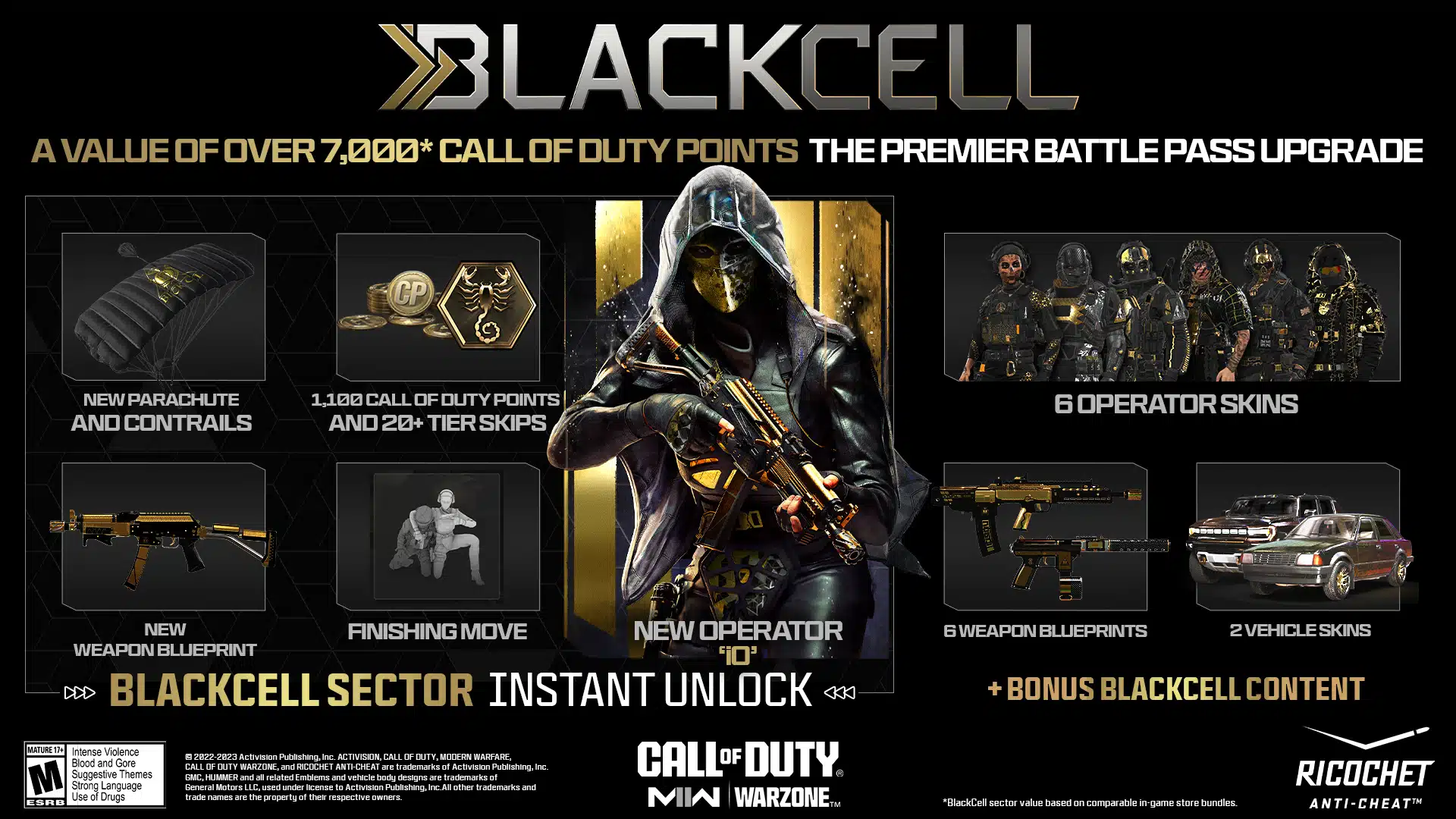 Battle Buddy Feature
Blackcell also introduces Battle Buddy, which is a mini announcer in-game. Gwen is an exclusive Blackcell reward, and she calls out killstreak activations, kills, and other in-game events when you win or perform well in a match. Thanks to the 20-25 tier skips, you will be able to unlock both the new Carrack .300 sniper and the FR Avancer assault rifle straight away to get them leveled up and ready to go.
MW2 & Warzone 2 Season 5 Battle Pass: Tiers & Rewards
New Operator Skins
Below is a comprehensive list of the new operator skins. BlackCell owners will receive an additional eight skins.

Alex: "The Bishop" skins (Sector E13, HVT)

Roze: "Bad Bishop" skins (Sector E14, HVT)

Ghost: "The Rook" skins (Sector E17, HVT)

Graves: "Shadow 0-1" Tier 100 skin

Oz: "Onslaught" Tier 100 skin
New Weapon Blueprints

King Hunter: Assault Rifle (Sector E1, HVT)

Banneret: SMG (Sector E12, HVT)

Raider: Battle Rifle (Sector E14, Non-HVT)
New Vehicle Skins

"Magnitude" heavy tank skin (Sector E15)
"Tier 100 Rewards Overview"

"wheeled steed" dirt bike (sector e2)
For the optimal network experience in Season 5, we recommend using GearUP Booster to accelerate your game. This tool effectively reduces latency, minimizes packet loss, and utilizes intelligent routing technology to avoid congested network paths, giving you an edge in battles.
If you're playing the console version, we also have a dedicated game router hardware called HYPEREV, which offers easy connectivity and one-click boosting.