How to Solve FIFA23 Error Creating Game Session
2023-09-22
FIFA23 brings forth a range of innovations, enhancing the gaming experience. The game primarily focuses on competitive multiplayer gameplay where players can face challenges from opponents worldwide. However, some players may experience the frustrating "Error Creating Game Session" error when trying to initiate or join matches.
Why FIFA23 Error Creating Game Session
The "Error Creating Game Session" in FIFA23 can be attributed to various factors. One possible cause is network-related issues such as unstable or slow internet connectivity. If the game cannot establish a stable connection with the server or other players, it leads to the error message.
Another potential cause of the error is hardware-related issues. Insufficient system resources, outdated drivers, or incompatible hardware components can also contribute to the problem. These issues can disrupt the game's ability to create or join multiplayer sessions successfully.
Solutions to Fix FIFA23 Error Creating Game Session
Method 1: Run FIFA 23 as an Administrator

Navigate to the FIFA 23 game directory.
Right-click on the game application file and select Properties.
Go to the Compatibility tab.
Check the "Run this program as an administrator" checkbox.
Apply the changes and run the game to check for the issue.
Method 2: Check Your Internet Connection

Ensure stable internet connectivity on your end.
Switch between wired and wireless connections if required.
Power cycle your Wi-Fi router to eliminate network glitches.
Method 3: Optimize FIFA 23 Network with GearUP Booster

GearUP Booster is a tool that automates network optimization for better gaming performance. It utilizes intelligent algorithms to adapt and find optimal routes based on global network nodes. Key advantages include:

Three-day free trial with subscription-based pricing.
Support for numerous games and platforms.
User-friendly interface suitable for beginners.
Exclusive adaptive routing technology.
Professional customer support and technical team.
If playing The First Descendant on consoles, consider using HYPEREV, a game router hardware device that connects via ethernet cable for easy control via its app. It supports all major console devices and features Wi-Fi functionality. You can purchase it from Amazon or other online platforms.
Method 4: Scan and Repair Game Files

Scan for corrupted or missing game files using these steps:
For Steam:
Open Steam client, go to Library, right-click FIFA 23, select Properties > Local Files tab > Verify Integrity of game files.
For EA Play:
Open EA Play, right-click FIFA 23 tile in Games Library > Settings cog icon > Repair.
For Epic Games Launcher:
Open Epic Games Launcher > Library > Click three-dots icon beside FIFA 23 > Verify.
Method 5: Contact EA Help

If the issue persists after trying above methods, contact EA Help by submitting a support ticket for further assistance.
How to Use GearUP PC Booster?
Step 1: Download GearUP Booster

Step 2: Launch and search FIFA 23.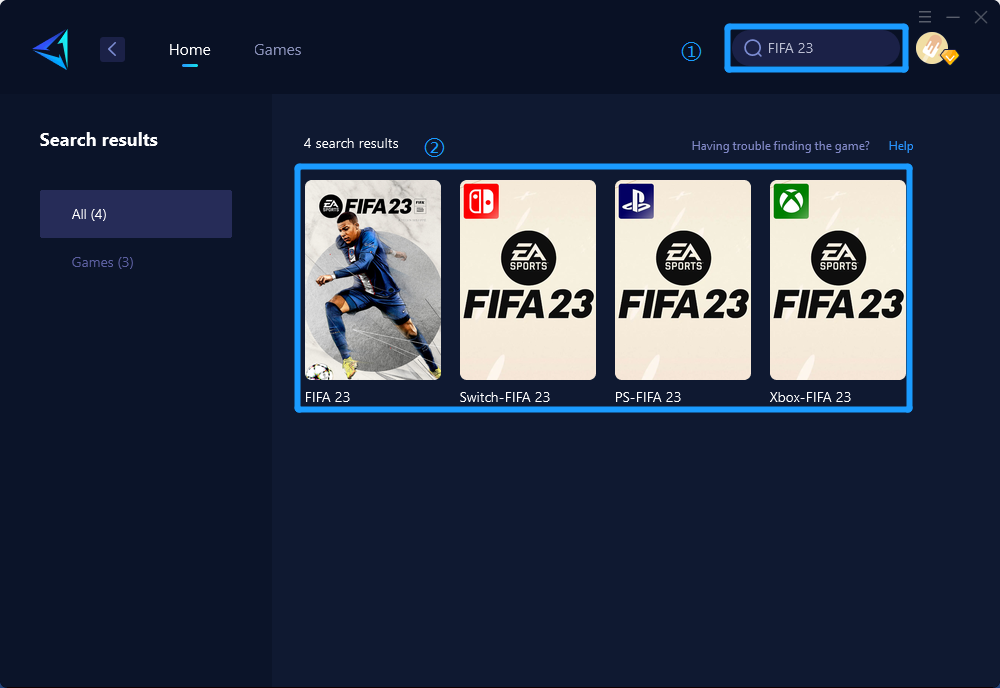 Step 3: Select Game Server and Node.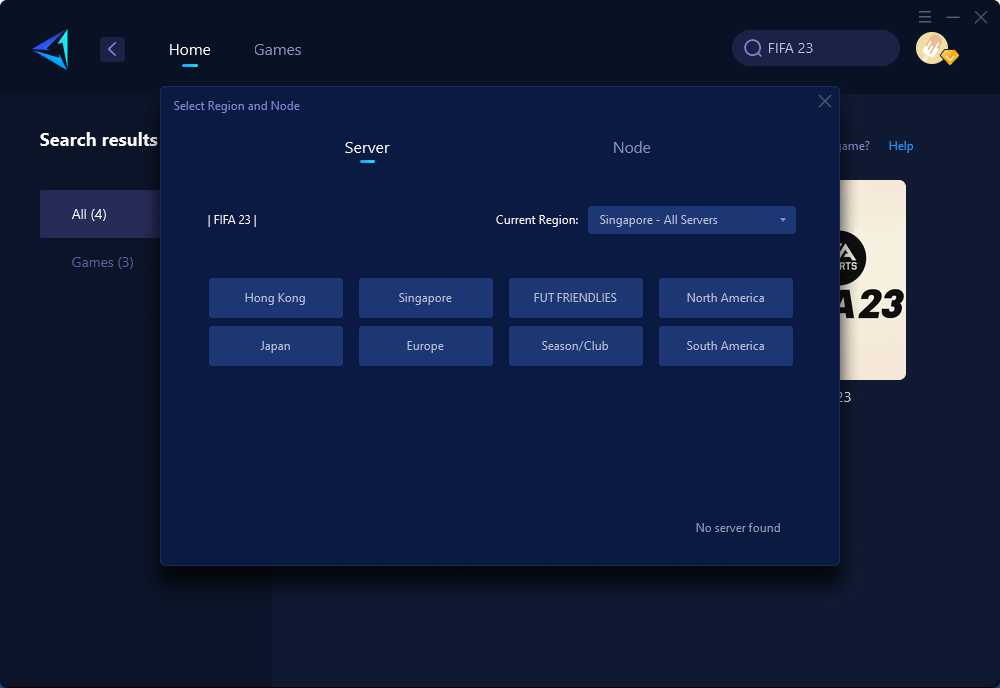 Step 4: Click on the "Confirm" button, GearUP Booster will optimize the network settings.
Conclusion
In conclusion, encountering the "Error Creating Game Session" in FIFA23 can be a frustrating issue for players seeking to engage in competitive multiplayer matches. However, by following the suggested solutions outlined in this article, such as running the game as an administrator, checking internet connectivity, optimizing networks with tools like GearUP Booster, scanning and repairing game files, and seeking assistance from EA Help if necessary, players can effectively resolve this issue.