How to Pre-install Starfield and Prepare for Launch Day
2023-07-14
The excitement surrounding the upcoming release of Starfield is reaching new heights, making it one of the most anticipated games of the year. As Bethesda and Microsoft make bold promises about the title, players are eager to explore the vast world it offers. However, concerns arise about the game's size and the potential obstacles it may pose on launch day. Luckily, preloading is available for Starfield, and we've got you covered with all the essential information. In this guide, we will discuss how you can preload Starfield, who is eligible for preloading, and important details you should know.
Can You Preload Starfield?
Preloading Starfield is indeed possible and offers several avenues for players. Whether you have pre-ordered the game or are a subscriber to Xbox Game Pass, you can take advantage of the preload option. Keep in mind that Starfield is expected to be a substantial download, weighing in at approximately 125 GBs.
Preloading for Physical Versions
Unfortunately, preloading the game for physical versions presents a challenge. As of now, there doesn't seem to be a way to digitally verify a physical purchase of Starfield and preload the game. However, Bethesda has introduced the Starfield Premium Upgrade and Starfield Constellation Editions, which enable players to access the game up to 5 days earlier than the official launch, providing a partial workaround for this limitation.
How to Pre-install Starfield
Preloading Starfield is a straightforward process if you have already pre-ordered the game or are an Xbox Game Pass subscriber. To begin, navigate to the Xbox app on your PC or access the store on your Xbox console. Once there, search for "Starfield" and select the edition labeled as "Starfield" from the search results. On the selected screen, you will find a prominent "Pre-Install" option. Click on it, and you'll be on your way to ensuring a smooth launch day experience come September 6.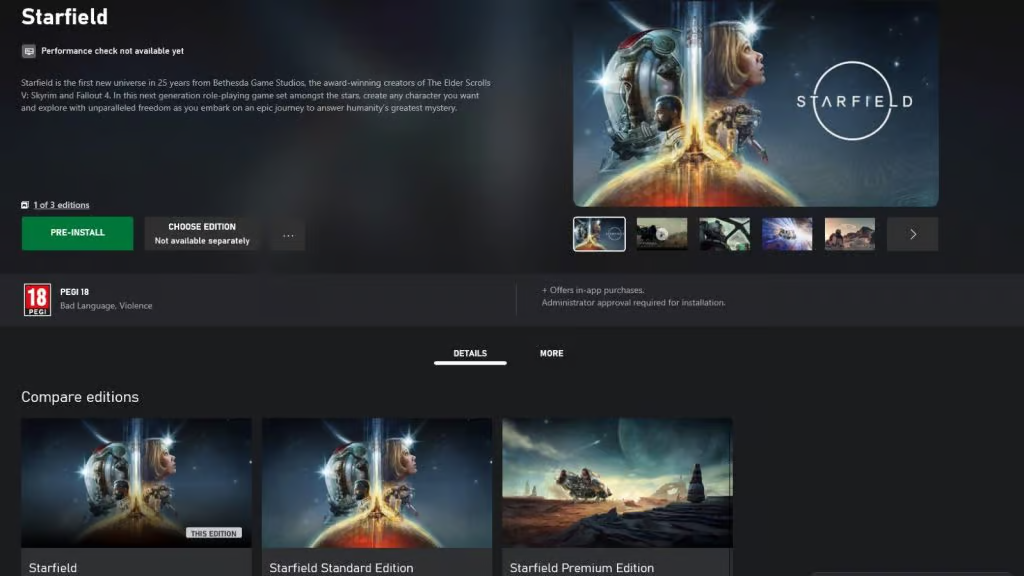 Pre-install Starfield More Faster with GearUP Booster
To fully enjoy the immersive world of Starfield, it's essential to have the game downloaded and ready to go on launch day. However, with its sizable file size of approximately 125 GBs, a stable and fast download speed becomes crucial. This is where GearUP Booster excels. Designed to optimize your internet performance, GearUP Booster utilizes a network of global nodes and intelligent routing to ensure a stable and reliable connection, minimizing network fluctuations that can disrupt your game download.
By leveraging GearUP Booster's advanced technology, you can significantly reduce the risk of encountering slow download speeds, interrupted connections, or frustrating network latency issues. With its intelligent routing algorithms, GearUP Booster dynamically selects the most efficient path for your data, ensuring that your download experience remains smooth and efficient.Here are some features of this tool:
Global server nodes for boosting connections

3-day free trial for all new users

Exclusive boosting routes

Simple and intuitive user interface

Affordable pricing with exceptional utility
Conclusion:
With the highly anticipated release of Starfield just around the corner, being prepared is key. By preloading the game through pre-order or Xbox Game Pass, you can avoid potential delays and dive right into the immersive world of Starfield. While physical versions of the game present certain limitations, Bethesda offers alternatives to access the game earlier. Follow our guide to pre-install Starfield and get ready for an unforgettable gaming experience on launch day.