How to Make Payday 3 Matchmaking Faster
2023-09-26
PAYDAY 3, developed by Starbreeze Studios and Deep Silver, has received excellent feedback and maintains the quality of its predecessor. However, as a newly launched game, it may have some issues. One common complaint from players is the long matchmaking times or even matchmaking failures. This article aims to address this problem by summarizing information from various sources.
Some players have experienced lengthy matchmaking times of up to several minutes or even longer without any solution. As of the time of writing, the PAYDAY 3 development team is aware of the issue and actively seeking a resolution. However, in the meantime, there are a few methods players can explore to potentially improve matchmaking speed.
How to Fix Payday 3 Matchmaking Failed
Before the official solution from the development team is released, you can try some simple methods to alleviate the long matchmaking times in PAYDAY 3. One such method is using GearUP Booster, a specialized tool for optimizing game network connections. It utilizes intelligent algorithms and global network nodes to bypass congestion, reduce packet loss and high ping. GearUP prioritizes game network traffic to ensure stability and performance enhancements, receiving positive feedback from many players. If you're interested, consider exploring these advantages of GearUP:

Effectively resolves network issues in PAYDAY 3.

Supports thousands of games and various gaming platforms.

Offers a 3-day free trial with subscription-based pricing.

Easy to use, even for beginners.

Built on years of rich boost technology experience.
Step 1.Click the button below to download GearUP Booster.

Step 2.Search for Payday 3.
Step 3.Select your desired server and node.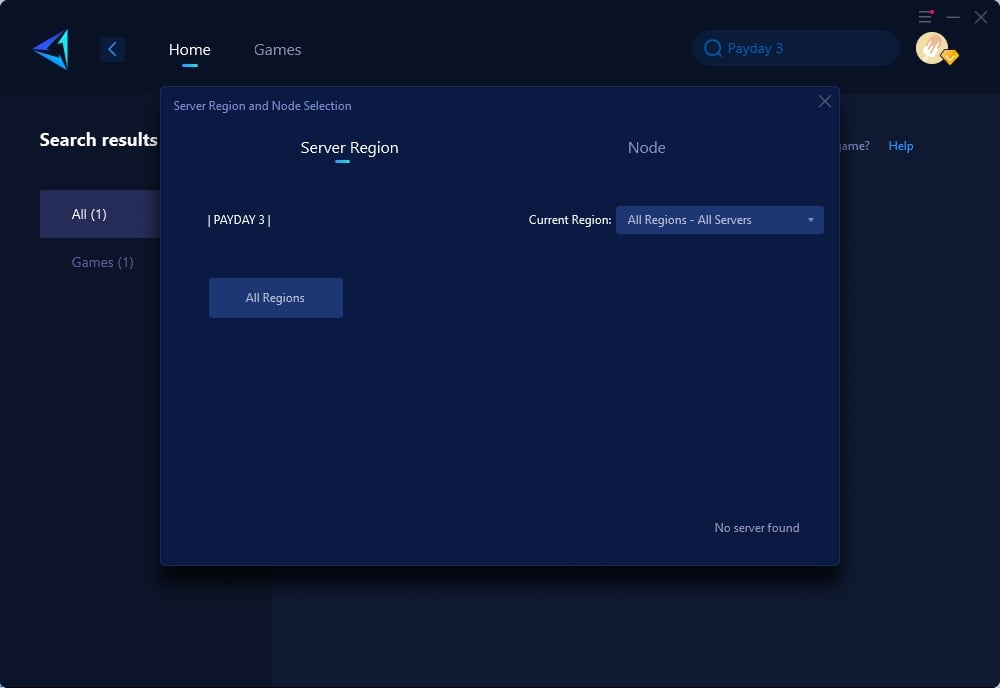 Step 4.Click "Confirm," and GearUP will optimize your network for you.
However, playing PAYDAY 3 on a console does not necessarily circumvent this issue entirely. Thus, consider trying HYPEREV from GearUP's hardware products—an easy-to-use tool that doesn't require PC acceleration but instead connects between your router and console, allowing one-click boosting through a smartphone app. HYPEREV can be purchased on Amazon or AliExpress.
Other Methods to Solve Payday 3 Matchmaking Error
Here are some additional methods to troubleshoot Payday 3 matchmaking issues:

Method 1: Check the Payday Server Status - Ensure that the Payday game servers are operational to determine if any connectivity issues are server-related.

Method 2: Check the Internet Connection - Verify your own internet connection for stability and speed, considering using a wired ethernet connection or switching to a different network.

Method 3: Verify and Repair Game Files - Follow these steps to verify and repair game files on PC:

Open Steam and go to Library.

Right-click on Payday 3 in your library.

Select Properties and go to Local Files.

Click on "Verify integrity of game files" and wait for the process to complete.

Method 4: Turn Off Windows Firewall - Disable Windows Firewall temporarily as it may restrict connections between your PC and online game servers.

Method 5: Wait for Patch Updates - If none of the previous methods yield results, it's recommended to wait for future patch updates from the developers that might address the matchmaking issue.
Please note that some of these methods may require advanced networking knowledge and could potentially cause irreversible errors if not performed correctly.
In conclusion, while waiting for an official solution from the PAYDAY 3 development team regarding extended matchmaking times in the game, players can try using tools like GearUP Booster or exploring alternative methods mentioned earlier to potentially improve their matching experience.