How to Fix PAYDAY 3 Stuck On Login Error?
2023-09-18
PAYDAY 3 is a highly anticipated first-person shooter game developed by Starbreeze Studios and published by Deep Silver. Serving as the third installment in the Payday series, it is set to release on September 21, 2023. Following the events of Payday 2, where the heisters parted ways, something reignites their passion for a life of crime.
One issue that some players may encounter is being stuck on the login screen while attempting to play PAYDAY 3. This problem could potentially be caused by network-related issues, disrupting normal gameplay and leading to an unpleasant experience.
Two Methods to Fix PAYDAY 3 Stuck On Login Error
If you find yourself stuck on the login screen or encounter Nebula Connection error messages while trying to log in, here are some methods you can try to resolve the issue:
Method 1: Reconfigure Steam and Nebula account connection

Visit the specified webpage and sign in to your Nebula account. Create one if you don't have a Nebula or Starbreeze account.

After signing in, locate the "Link to Receive Rewards" message and click on "Link to Steam."

Follow the instructions provided and log in to your Steam account.

Once logged in, check if your accounts are successfully linked by clicking on the Linked Accounts tab and verifying the Connected status for Steam.

Exit and relaunch PAYDAY 3; this should allow you to bypass the login screen.
If Method 1 does not resolve the issue, it's possible that a poor network connection is causing the error. In such cases, consider trying Method 2:
Method 2: Use GearUP Booster for optimizing network performance

GearUP Booster can efficiently optimize your network performance while playing PAYDAY 3. It addresses common issues like Nebula Connection errors and reduces latency or packet loss during gameplay. By utilizing intelligent network protocols, GearUP Booster ensures you have an optimal connection with minimal disruptions caused by network congestion.
The advantages of GearUP Booster include:

Industry-leading adaptive intelligent routing technology

Free trial period of three days for new users

Subscription-based payment with multiple options available

User-friendly interface without requiring expert networking knowledge

Compatible with thousands of games and all gaming platforms
If you prefer playing PAYDAY 3 on consoles, our hardware product HYPEREV can be utilized as well. By connecting directly between your router and console using an Ethernet cable, it provides enhanced stability while only requiring a single setup process controlled through an app—making it easy for anyone to use. Additionally, HYPEREV features Wi-Fi functionality to boost your overall network environment.
How to Use GearUP Booster?
For detailed instructions on how to use GearUP PC Booster, refer to the following step-by-step guide:
Step 1.Click the button below to download GearUP Booster.

Step 2.Search for Payday 3.
Step 3.Select your desired server and node.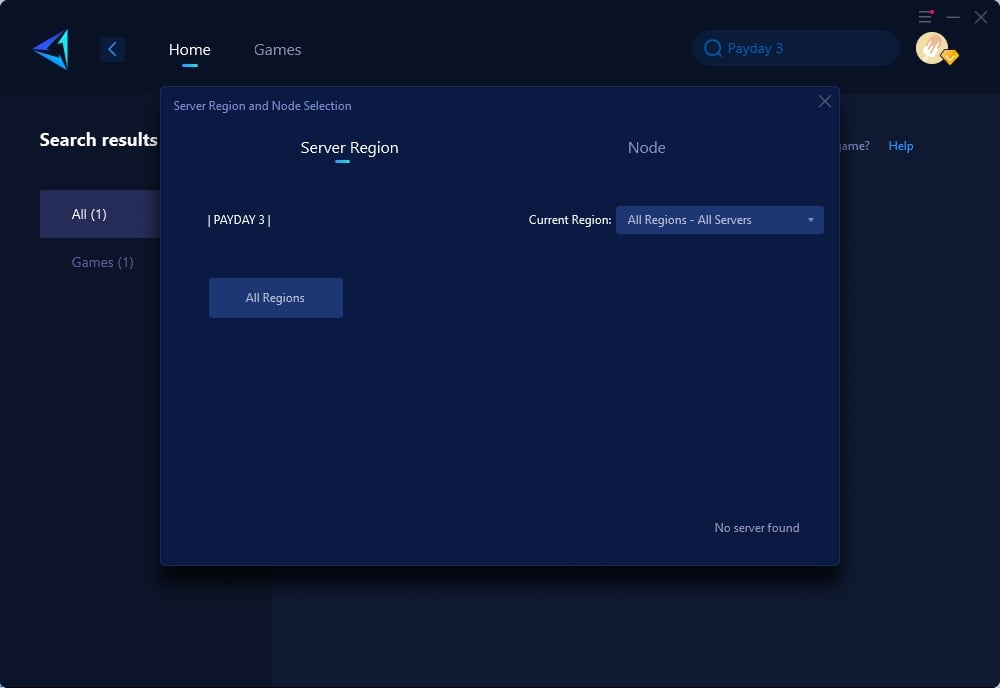 Step 4.Click "Confirm," and GearUP will optimize your network for you.
Summary
PAYDAY 3 is an upcoming first-person shooter game and the third installment in the Payday series. Some players may encounter the issue of being stuck on the login screen, which can be caused by network problems. We provide two solutions: reconfiguring the connection between your Steam and Nebula accounts, or using GearUP Booster to optimize network performance. GearUP Booster offers intelligent routing technology and a user-friendly interface. Additionally, HYPEREV hardware can enhance stability for console players. By following these methods, players can resolve the "Stuck on Login" issue in PAYDAY 3 and enjoy uninterrupted gameplay.