GearUP Booster Collaboration Continues
2023-09-05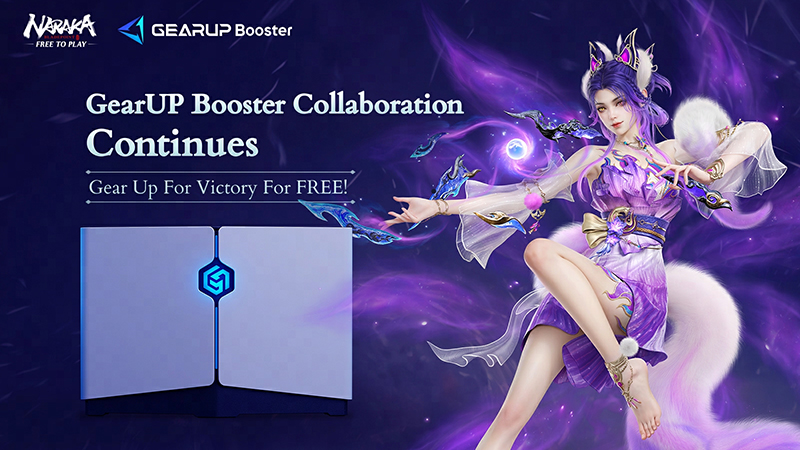 Heroes of Morus Isle!
We are pleased to announce that we will continue our partnership, ensuring that every player can access GearUP Booster's free game boosting service. We are committed to provide a gaming experience that is consistent with low latency and stable network connections so players can celebrate many wins without interruptions.
Optimizing your network and gaming experience is important to us so we want to hear from players like you. If you spend a few minutes participating in the following survey, you can help us improve the experience and also get a chance to win our console booster hardware - HYPEREV. We're giving away 5 of them!
Click this link to complete the survey: https://forms.gle/jGpSxJuYffRBzVu6A
※The survey deadline is September 11th, 24:00 (UTC).
Event Details
Event Time: Long-term
Event Server: NA/EU/SEA/AS Servers are eligible
Event Platform:PC and Console players
Event Rules:
For Computer Players
NARAKA: BLADEPOINT players can visit the official GearUP Booster website and download this free network optimization tool.

Enjoy the Network Optimization Service
All players can enjoy free network optimization service when boosting NARAKA: BLADEPOINT.

Contact Customer Service (if needed)
If any NARAKA: BLADEPOINT player encounters issues with GearUP boosting effect, they can always contact customer service and staff through GearUP Booster, and they will provide 1v1 technical support.
For Xbox & PlayStation Players
Xbox & PlayStation players have two options for network optimization - PC sharing boosting and hardware boosting.
If you have a personal computer, you can download and install the free GearUP PC Booster service to optimize your network. GearUP PC Console Boost Mode optimizes the host connection by using the shared network connection of computers, hosts, and routers.

If you are more interested in hardware, you can find the HYPEREV router by visiting the GearUP Booster Official website to learn more.
CONTACT US
If you have any other questions, GearUP staff members will be at your service on both the in-game and GearUP's own Discord channels.

NARAKA: BLADEPOINT Discord:https://discord.gg/narakabladepoint
GearUP Discord:https://discord.gg/A6YsM2kc9p