Fixes For Fortnite Login Failed Issue
2023-10-25
Fortnite is a free, ever-evolving multiplayer game where you and your friends battle to be the last one standing or collaborate to create your dream Fortnite world. Offering the same gameplay, map, and weekly updates across platforms including PlayStation 4, Xbox One, PC and Mac, it allows players to construct their own fortresses in battle, striving to be the last one standing. However, users may occasionally encounter issues with logging in, such as the 'Fortnite login failed' error.
Part3. Update your network driver

Part4. Disable the Proxy Server
Why has Fortnite Login Failed?
The issue of Fortnite login failed can be encountered due to various reasons such as outdated game patches, issues with network settings, or problems with connected accounts.
Solving Fortnite Login Failed Issues with GearUP Booster
In response to these frequent occurrences of 'Fortnite Login Failed' issues, the GearUP Booster game optimizer service emerges as an ideal solution. GearUP Booster is specifically designed to enhance gaming performance by reducing latency, preventing packet loss, and stabilizing network connection. Often, the 'Fortnite login failed' error results from network settings discrepancies or unstable connections. GearUP Booster efficiently resolves these problems by optimizing network settings and prioritizing bandwidth for your game, providing a smooth, fast, and hassle-free Fortnite experience.
A noteworthy aspect of GearUP Booster is its compatibility with all gaming platforms, whether you're playing Fortnite on PlayStation 4, Xbox One, PC, or Mac, GearUP Booster ensures you will never again be frustrated over login issues. Another remarkable feature that sets GearUP Booster apart is its Adaptive Intelligent Routing technology. This exclusive feature enables it to reduce packet loss significantly, thus providing an unhampered and improved gaming experience.
Features:
Offering a 3-day free trial.
Affordable pricing with better results compared to other boosters.
Multiple exclusive technologies to enhance performance.
Ensuring secure data transmission.
Subscription-based payment for flexible options.
Step 1: Download GearUP Booster

Step 2: Search Fortnite.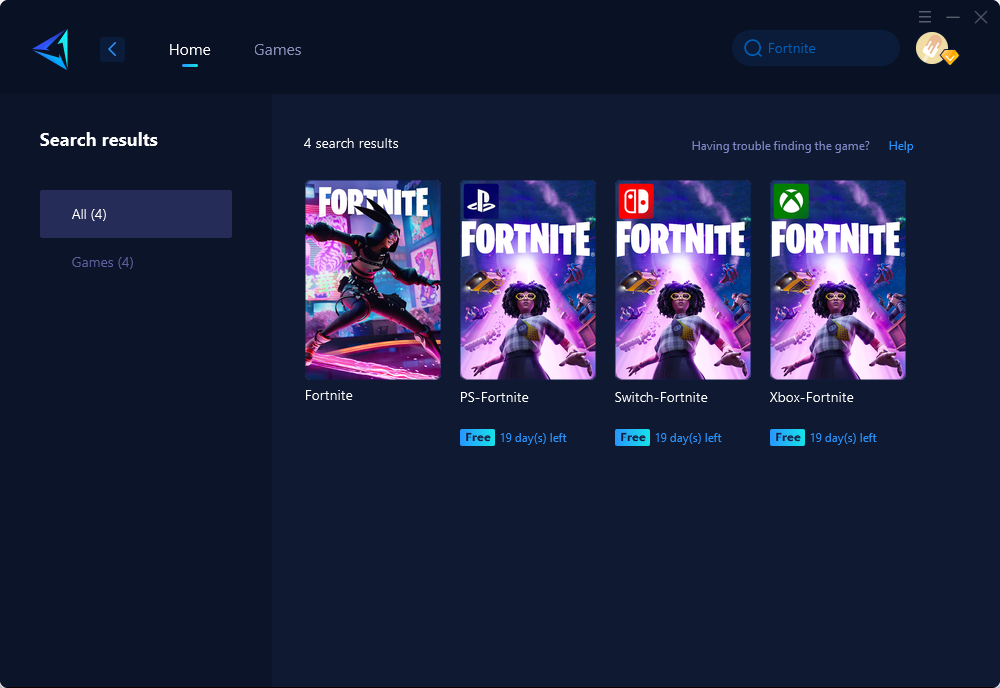 Step 3: Select Server and Node.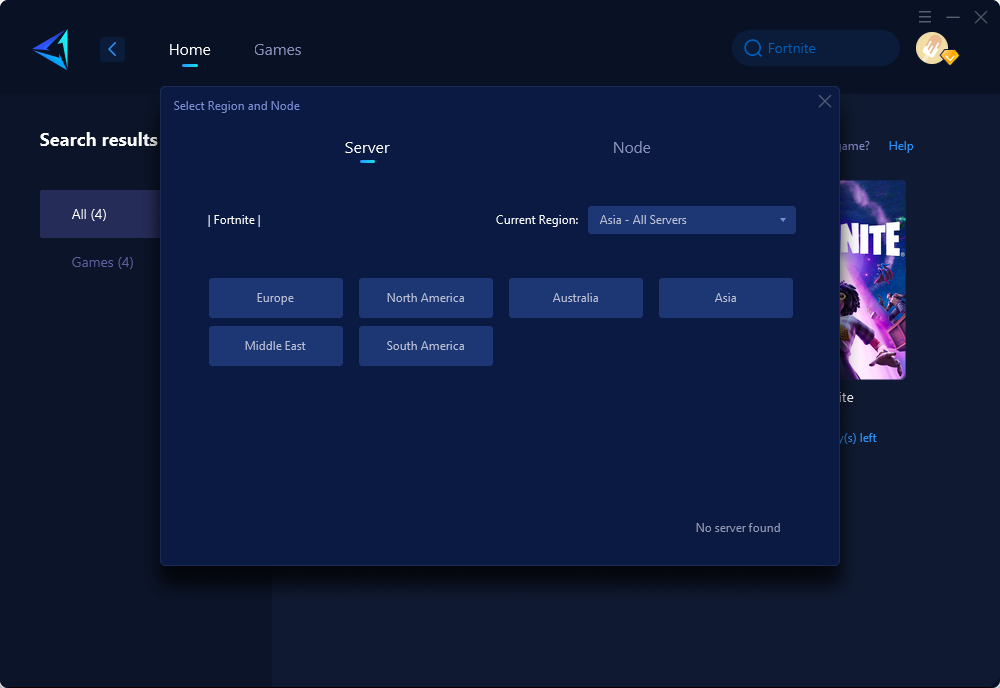 Step 4: Remember Click "Confirm" first, and then launch your game.
Other Methods to Fix Fortnite Login Failed
It is important to note that these methods require professional knowledge. Otherwise, they may result in device errors. Please use them with caution.
Clear DNS cache and Renew IP

To resolve the issue, follow these steps:

Open the Windows command prompt.
Right-click on the command prompt icon and select "Run as administrator."
In the command prompt window, enter the following commands one by one:
"ipconfig /flushdns"
"ipconfig /release"
"ipconfig /renew"
Wait for each command to execute before entering the next one.
After executing all three commands, restart your system.
Once your system has restarted, check again to see if the issue is resolved.
Update your network driver

To update the network adapter driver on your computer, follow these steps:

Click on the Start button and search for "Device Manager" in the search results.
Open the Device Manager window and locate the "Network adapters" drop-down menu.
Choose the appropriate Network Adapter from the list.
Right-click on the selected adapter and choose "Update Driver Software" from the drop-down menu.
Select "Search Automatically for Updated Driver Software."
Follow the instructions provided on the following screens to complete the updating process.
Restart your computer to apply the changes.
Disable the Proxy Server

Perform the following steps to make the necessary changes to your internet settings:

Press the Windows logo key and R simultaneously to open the Run dialog.
Type "inetcpl.cpl" into the Run dialog and press Enter. This will open the Internet Properties window.
Navigate to the Connections tab.
If you see "Never dial a connection" below "Choose Settings," select it.
Click on LAN settings.
Uncheck the box next to "Use a proxy server for your LAN." If it is already unchecked, check the box next to "Automatically detect settings."
Click OK to apply the changes.
If you are currently using a VPN or a third-party proxy server, disable it.
Conclusion
In summary, this article highlights the issue of 'Fortnite login failed' that players often encounter due to outdated game patches, problems with network settings or connected accounts. This issue can be effectively tackled using GearUP Booster, a game optimizer service, that enhances gaming performance by reducing latency, preventing packet loss, and stabilizing network connections. GearUP Booster is compatible with all gaming platforms and is equipped with Adaptive Intelligent Routing technology for reduced packet loss. It features an easy-to-use interface for users. Other methods to resolve login issues include clearing DNS cache and renewing IP, updating network drivers, and disabling the proxy server.