[Fix]The First Descendant Stuck Login Screen Issue
2023-09-21
The First Descendant is a popular free-to-play cooperative SF fantasy TPS (third-person shooter) game with RPG elements developed by Nexon. It is available for PC and consoles such as Xbox One, Xbox XS, PS4, and PS5. With high-quality graphics powered by Unreal Engine 5, the game has gained significant popularity since its official release. However, some players have encountered an issue where they get stuck on the login screen and are unable to start the game. If you're facing this problem, don't worry! This article will provide solutions to help you overcome it.
Getting stuck on the login screen in The First Descendant can occur due to various reasons, including hardware or network issues. This problem can result in a negative gaming experience for players. However, with the right troubleshooting steps and solutions at hand, you can overcome these obstacles and start playing The First Descendant without being stuck on the login screen.
Fixes for The First Descendant Stuck Login Screen Issue
Method 1: Check The First Descendant System Requirements

Before jumping to conclusions, ensure that your computer meets the minimum system requirements for The First Descendant. Inadequate hardware configuration may lead to launch and gameplay issues.
Method 2: Update GPU Drivers

If you haven't updated your graphics driver on Windows, install the latest patch version by checking for updates from NVIDIA or AMD official websites.
Method 3: Optimize The First Descendant Network with GearUP Booster

A coop-focused game like The First Descendant requires a reliable network connection. Network issues can cause delays, packet loss, login problems, or sudden disconnections during gameplay. GearUP Booster is a professional network optimization tool designed specifically for gaming. Unlike traditional VPNs, it optimizes game-related network traffic using its exclusive technology. With global server nodes across hundreds of countries and regions, GearUP Booster intelligently matches the best connection route based on your location's network conditions. Its advantages include:

Free trial for three days with subscription-based pricing.

Compatible with thousands of games.

User-friendly interface suitable for beginners.

Exclusive adaptive routing technology leading in the industry.

Affordable price and outstanding performance.

If you choose to play The First Descendant on consoles, you can try using HYPEREV, a hardware device of the game router type. By establishing a physical connection through an Ethernet cable, you can control it using an app, making it extremely user-friendly. HYPEREV is compatible with all console devices and also includes Wi-Fi functionality. You can purchase it on platforms like Amazon or AliExpress.
Method 4: Close Unnecessary Background Tasks

To ensure optimal system resource utilization, close any unnecessary background tasks on your PC.
Method 5: Check for Windows Updates

Outdated or corrupted Windows builds could be a potential cause of the issue. Check for available updates and install them as they often include bug fixes and improvements.
Method 6: Verify Game Files

If there are any issues with The First Descendant's game files like corruption or missing files, follow these steps to check for problems:

Launch Steam and go to Library.

Right-click on The First Descendant from the installed games list.

Select Properties > Go to Local Files.

Click on Verify Integrity of Game Files.

Wait until the process completes.

Restart your computer once done.
How to Use GearUP Booster?
If you want to learn how to use GearUP PC Booster effectively, follow these step-by-step instructions:

Step 1: Download and install GearUP Booster.

Step 2: Search for The First Descendant.
Step 3: Select the desired server and node.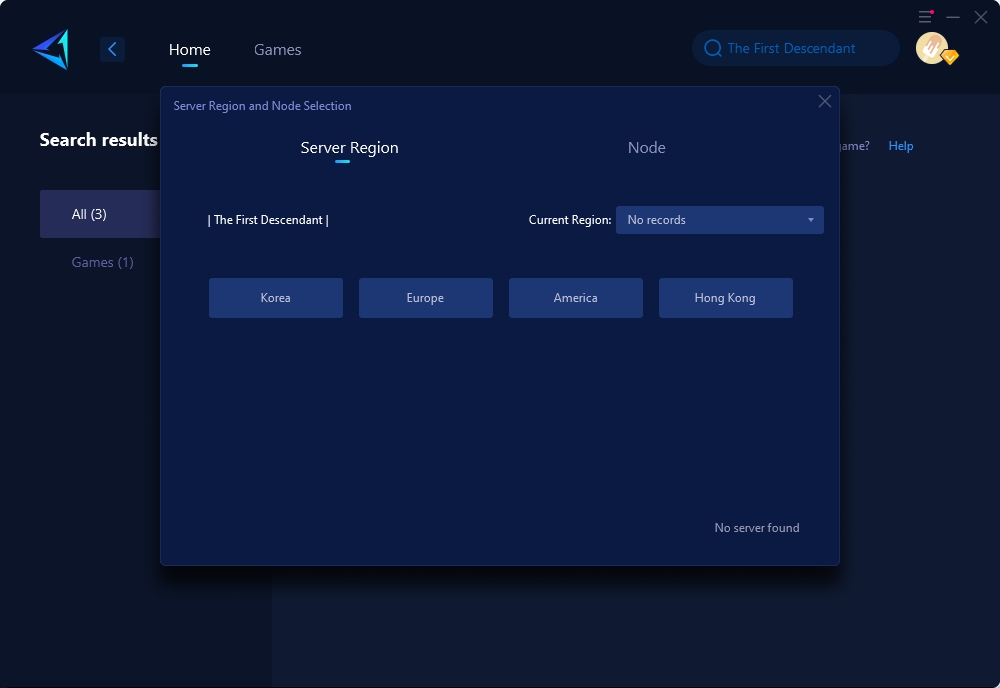 Step 4: Click confirm, and GearUP Booster will automatically boost.
In conclusion, if you find yourself stuck on the login screen while trying to play The First Descendant, try troubleshooting using methods like checking system requirements, updating GPU drivers/Windows OS/ game files if necessary, closing unnecessary background tasks, or optimizing your network connection with tools like GearUP Booster or HYPEREV (for consoles). By following these steps and ensuring compatibility and optimized settings, you should be able to resolve this issue and enjoy a seamless gaming experience in The First Descendant