Fix PAYDAY 3 Failure Sending Party Invite
2023-09-14
Starbreeze Studios and Deep Silver are set to release "PAYDAY 3", a highly anticipated sequel to the heist-themed action FPS multiplayer game, PAYDAY. The intense cooperative shooting experience of planning and executing heists has made the PAYDAY series popular among fans. However, some players seem to be facing issues with party invites not working in PAYDAY 3 on both PC and consoles.
Experiencing "PAYDAY 3 Failure Sending Party Invite" can lead to frustrating gameplay experiences. The reasons behind the party invite failure may include various factors, such as network connectivity issues or compatibility problems. These issues can hinder players from enjoying smooth cooperative gameplay and may affect their overall experience.
How to Fix PAYDAY 3 Party Not Working
Here are several possible methods to resolve the issue of PAYDAY 3 party invites not working:
Method 1: Restart your computer.

Method 2: Run Payday 3 as an administrator by following these steps:

Go to the installed PayDay 3 game directory.

Right-click on the application file and select Properties.

Click on the Compatibility tab.

Enable "Run this program as an administrator"by ticking its checkbox.

Click Apply and then OK to save changes.
Method 3: Check your internet connection.

Method 4: Utilize GearUP Booster for network optimization. GearUP Booster is an automated tool that optimizes your network connection for gaming. It intelligently matches your connectivity through its global network nodes, reducing delays, packet loss, and congestion. Features:

Effectively resolve PAYDAY 3 Failure Sending Party Invite.

Exclusive adaptive smart routing technology.

Subscription-based payment with a 3-day free trial available.

User-friendly interface suitable for beginners.

Years of experience in boosting network gaming.
Method 5: Update Payday 3 by following these steps based on your platform:

For Steam:
Open Steam client > Library.
Select PayDay 3 from the left pane.
Update if available.
Restart your PC after installation.

For Xbox:
Press Xbox button > My Games & Apps > See All.
Choose Manage and then Updates.
Console will start automatic download & installation.

For PlayStation:
Go to Home screen > Main menu on top.
Navigate to Games tab > Highlight Payday 3.
Press Options button > Check for Update.

Method 6: Ensure cross-platform compatibility.

Method 7: Temporarily disable antivirus and firewall protection (caution: this action may compromise your computer's security):

Open Start Menu > Search for Firewall > Select Windows Defender Firewall.

Turn off Windows Defender Firewall (not recommended)for both Public and Private options.
Introducing GearUP Booster as a solution for optimizing CS2's network. If you find the above methods complex, you can easily optimize CS2's network using GearUP Booster by following these steps:
Step 1.Click the button below to download GearUP Booster.

Step 2.Search for Payday 3.
Step 3.Select your desired server and node.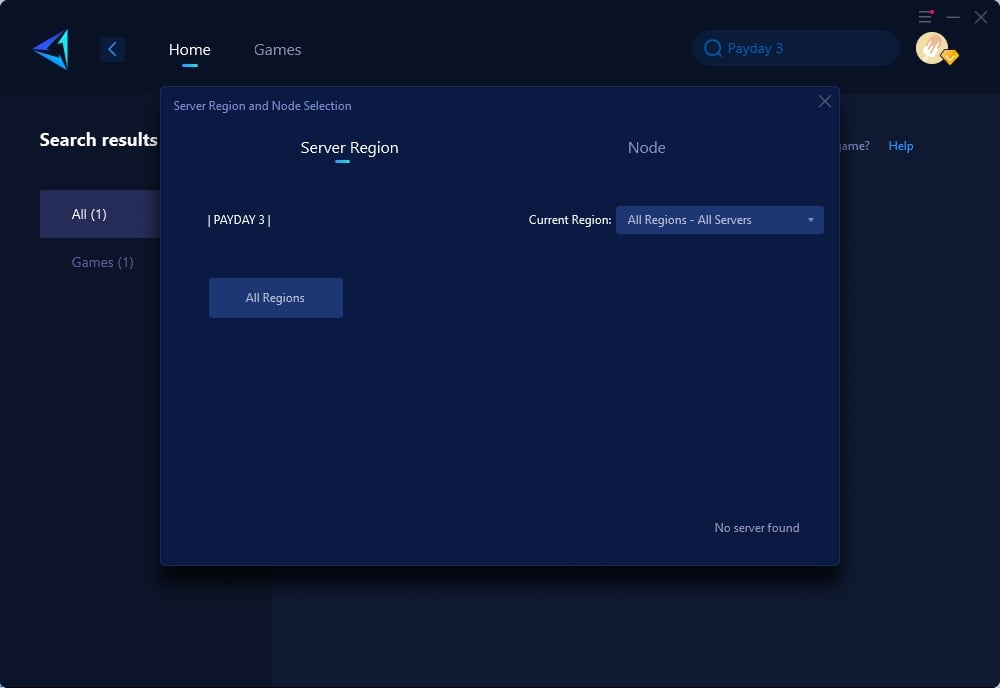 Step 4.Click "Confirm," and GearUP will optimize your network for you.
In conclusion, while encountering "PAYDAY 3 Failure Sending Party Invite" can be frustrating during gameplay, there are several methods available to mitigate or resolve this issue. Trying simple troubleshooting steps like restarting your computer or running Payday 3 as an administrator can often help. Additionally, optimizing your internet connection through tools like GearUP PC Booster or checking for game updates can also contribute to a smoother gaming experience in PAYDAY 3's party invites functionality.