Fix No Man's Sky No Connection to Matchmaking Services
2023-10-12
In the game No Man's Sky, players often encounter a "No connection to matchmaking services" error. This problem may primarily arise due to server issues, a weak or unstable internet connection, interference from firewall or security software, or bugs within the game itself.
Optimize No Man's Sky Network with GearUP Booster
Facing the prevalent problem of "No Man's Sky no connection to matchmaking services," we have a powerful solution for you: GearUP Booster. This game optimizer service has been specifically designed to combat these types of issues. It efficiently reduces latency, prevents packet loss, and stabilizes your network connection, thus paving the way for an incredibly smooth gaming experience.
With GearUP Booster, you are no longer at the mercy of server issues or weak internet connections. It works by supercharging your network settings and prioritizing bandwidth for your game, making sure that lag or disconnections are a thing of the past. Using its Adaptive Intelligent Routing technology, GearUP actively reduces packet loss, therefore optimizing your gameplay significantly.
What's more, GearUP Booster supports over 3 thousand games and is compatible with all gaming platforms. It also boasts an easy-to-use interface, making it suitable for gamers of all skill levels. Even better, GearUP Booster offers a free three-day trial, allowing you to try out its impressive capabilities before committing to a subscription.
Step 1: To begin downloading GearUP Booster, kindly click on the designated button.

Step 2: Search for "No Man's Sky."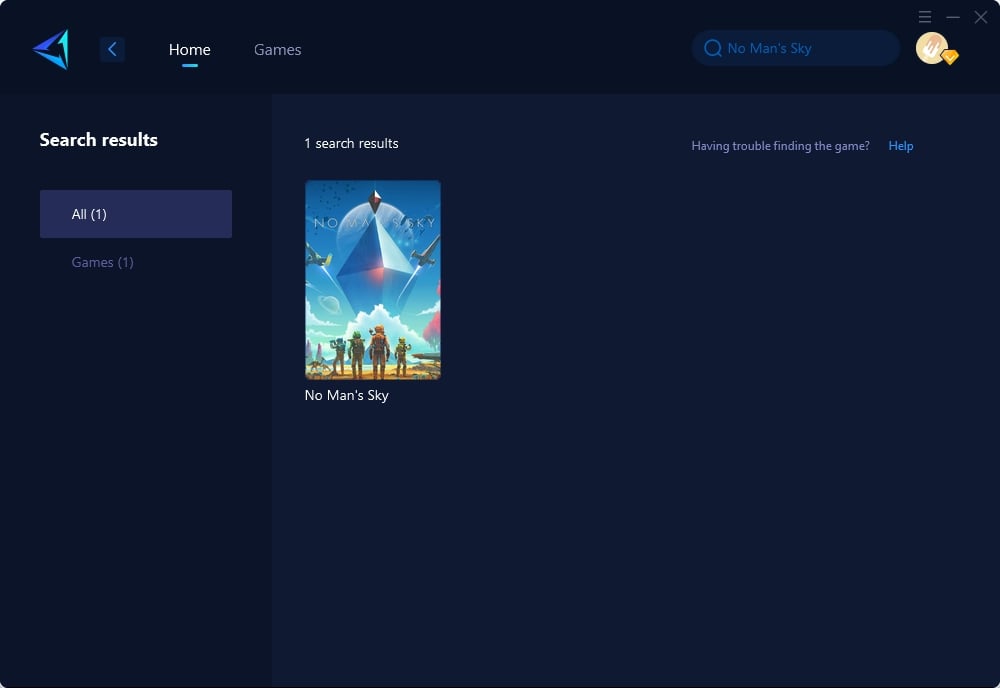 Step 3: Select the suitable server and node.

Step4. Upon clicking "confirm," GearUP will optimize your network settings automatically.
If you are a console player and prefer not to boost your console games through a computer, there is a more convenient option available. That option is to use HYPEREV, a game router device from GearUP. Simply connect HYPEREV between your router and console, and optimize your game network with the GearUP Console Booster mobile app in just one click. Once the device is initially set up, there is no need for repeated configurations. It's incredibly easy and convenient. Additionally, this hardware also functions as a Wi-Fi device, supporting multiple consoles for boosting simultaneously. You can now purchase HYPEREV through Amazon or AliExpress.
Other methods
Update or Reinstall the Game

To address bugs, you can resolve them by updating or reinstalling the game:

First, check for updates in your game platform, such as Steam or PlayStation.
Download and install any available updates for the game.
If the issue continues, uninstall the game .
Reinstall the game from the official platform.
Restart your system so that the changes can take effect.
For more troubleshooting tips, refer to the articles "No Man's Sky won't launch" and "No Man's Sky black screen".
Adjust Firewall and Security Settings

If you're experiencing issues with No Man's Sky not connecting to matchmaking services, it's possible that a firewall or security software is blocking the game. To resolve this, you can adjust your firewall settings by following these steps:

Open the Firewall Settings: Navigate to the firewall settings on your computer.
Find Allowed Programs: Locate the section that lists allowed or blocked programs.
Add "No Man's Sky": Click on "Add Program" and select "No Man's Sky" from the list, or browse to the game's executable file.
Set Permissions: Make sure that "No Man's Sky" has the necessary permissions to access the internet.
Check Antivirus Settings: Some antivirus software may also block connections. Check the settings and add "No Man's Sky" as an exception if needed.
Restart Your Computer: Apply the changes and restart your computer to ensure they take effect.
Adjust In-Game Settings

Occasionally, connection problems can arise from in-game settings:

Access the settings menu in "No Man's Sky".
Modify the network and multiplayer settings.
Experiment with different regions if the game permits.
Restart the game to apply the changes.
If you encounter stuttering, we have a useful guide to assist you.
Conclusion
This article discusses the common issues that players face when playing 'No Man's Sky', specifically the "No connection to matchmaking services" error. The error can be caused by server issues, weak or unstable internet connection, interference from firewall or security software, or bugs within the game. This article suggests several solutions, including using the GearUP Booster, a game optimizer that reduces latency, prevents packet loss, and stabilizes network connection. It also offers steps to update or reinstall the game, adjust firewall and security settings, and modify in-game settings to improve players' gaming experience.