Quickly Fixes For FC 24 Can't Connect to EA Servers
2023-10-13
EA Sports FC 24 offers the most realistic football experience underpinned by HyperMotionV technology, featuring gameplay styles optimized by Opta and an enhanced Frostbite engine, drawing players into this global game. However, while enjoying the game, players may sometimes encounter issues such as the inability to connect to EA servers.
This issue can arise from several causes, including network connectivity problems, server downtime, or potential issues with your gaming console or PC. It's crucial to identify the specific reason to resolve the error and enjoy uninterrupted gameplay.
How to Use GearUP Booster to Solve Connection Issues in FC 24
With the application of GearUP Booster, these connection problems in EA Sports FC 24 can be efficiently resolved. GearUP Booster is an advanced gaming optimizer designed to tackle such frustrating issues. It prioritizes your gaming traffic, reduces latency, stabilizes connection, and effectively prevents packet loss, transforming your gaming experience into a smooth, lag-free and uninterrupted thrill.
GearUP Booster's Adaptive Intelligent Routing technology is especially beneficial in reducing packet loss. It enables the program to identify the best route for your data, ensuring not only fast but also stable connections to the EA servers. Besides, GearUP Booster is compatible with all gaming platforms and supports over a thousand games, including but not limited to EA Sports FC 24, thus catering to a wide range of gaming interests and needs.
Step 1: Download and install GearUP Booster.

Step 2: Search for EA Sports FC.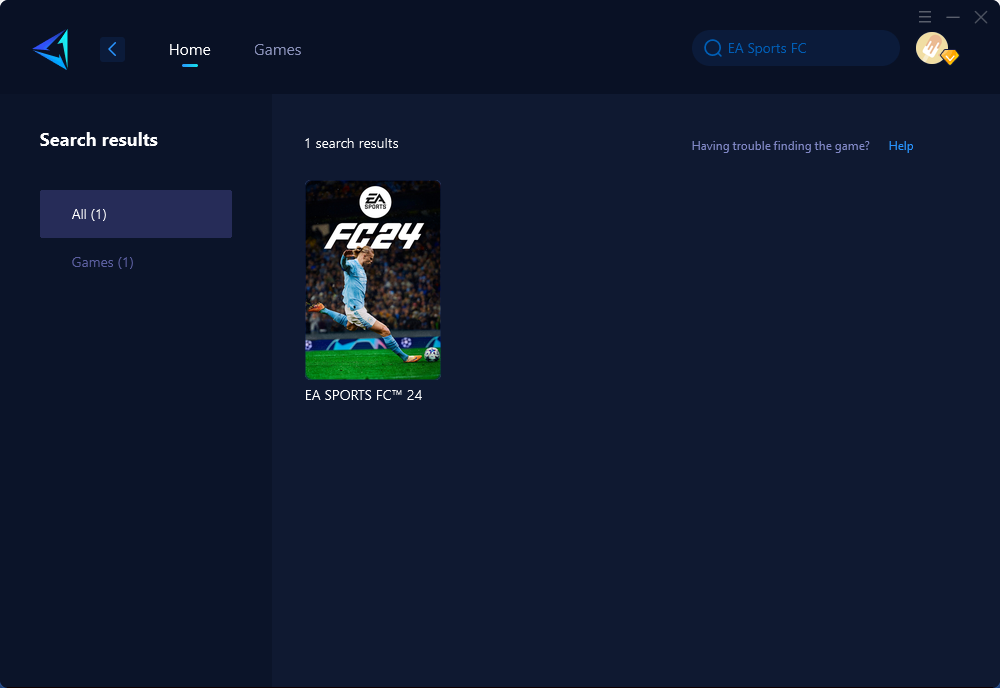 Step 3: Select the desired server and node.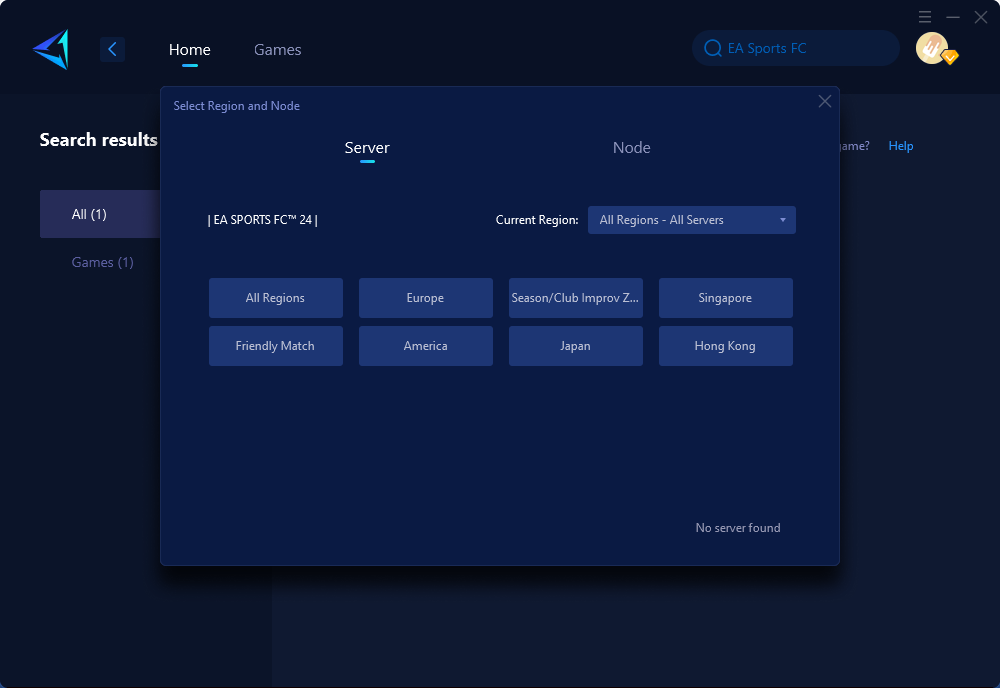 Step 4: Click confirm, and GearUP Booster will automatically boost. And then you can launch the game.
It also offers a free three-day trial, giving you the opportunity to test out its potential and enjoy your favorite game without any connectivity issues before making a commitment. GearUP Booster is indeed a compelling solution for any gaming connectivity problems like the 'can't connect to EA servers' error in EA Sports FC 24 and offers an unparalleled gaming experience.
If you're a console player who enjoys EA FC 24 gameplay and would rather not enable GearUP Booster on your PC using Share Mode for console acceleration, you have an alternative option: HYPEREV. HYPEREV is a hardware product offered by GearUP that allows you to enhance your gaming experience. Simply connect it between your console and router using an Ethernet cable, and then use the accompanying mobile app to enjoy one-click boosting. With HYPEREV, you can easily optimize your gaming performance without the need for PC involvement or complex setup processes.
Other Methods You Can Try(But not easy)
Enable access for FC 24 in the Firewall

To resolve the "can't connect to EA servers" error, follow these steps to whitelist EA Sports FC 24 in the firewall:

Open the Start Menu and type "Windows Security," then press Enter.
Navigate to Firewall & network protection in the Windows Security app (for Windows 11).
Click on "Allow an app through the Firewall."
Choose "Change settings."
Select the boxes next to "Private" and "Public" for EA Sports FC 24.
Save the settings.
Restart your computer.
​
Note: If you have any third-party antivirus software, you'll also need to whitelist FC 24 there as well.
Connect to the platform account

To check if your platform account is connected to your EA account, follow these steps:

Open a browser and sign in to your EA account.
Go to the account settings.
Click on the "Connections" tab.
Check if your platform account is listed and connected.
​
If it is not connected, you may need to reinstall the game to access the option to connect it.
Conclusion
This article discusses the issue of inability to connect to EA servers in EA Sports FC 24 and how to resolve it using GearUP Booster. Connection problems can arise due to factors like network connectivity issues, server downtime, or console/PC issues. GearUP Booster can effectively tackle these issues as it prioritizes gaming traffic, reduces latency, stabilizes connection, and prevents packet loss. With its user-friendly interface, gamers can optimize their network settings easily.