Best Fixes for PAYDAY 3 No Network Connection Issue
2023-09-20
PAYDAY 3 is an upcoming first-person shooter game by Starbreeze Studios and Deep Silver. As the highly anticipated sequel to Payday 2 and the third installment in the Payday series, it is set to be released on September 21, 2023. However, some players may encounter the frustrating issue of "No Network Connection" or receive network error messages while playing. In this article, we will provide solutions to help resolve these problems.
The Impact of No Network Connection
No Network Connection issues in PAYDAY 3 can have significant repercussions on players' gaming experiences. When players encounter this problem, they are unable to connect to the game's servers, resulting in the inability to access online features, multiplayer modes, or participate in cooperative gameplay with friends. This can be frustrating and disappointing, especially for those who enjoy the social aspects of online gaming.
Furthermore, the absence of network connectivity disrupts the overall gameplay flow and prevents players from fully experiencing PAYDAY 3's immersive world. Without a reliable network connection, players may not be able to take advantage of real-time updates or download additional content and patches. They might also miss out on events, updates, and new features that are only accessible online.
Solutions for PAYDAY 3 No Network Connection
Method 1: Check the Server Status

To address network errors, it is recommended to verify if there are any issues with Payday's servers. Although there is no official real-time server status page available, the developers are actively working on resolving known beta issues.
Method 2: Test Your Internet Connection

A stable and fast internet connection is essential for an online game like Payday 3. Ensure that your internet connection meets the required standards.
Method 3: Restart Your Device

Sometimes network glitches can affect your device's connection with Payday 3. Attempt restarting your device as it might help reestablish the connection and resolve network-related problems.
Method 4: Temporary Disable Antivirus and Firewall

Your computer's antivirus or firewall settings may block access to Payday 3 online services. Ensure that you whitelist the game on all antivirus and firewall software to allow uninterrupted connectivity.
Using GearUP Booster
Additionally, you can simplify these troubleshooting steps by utilizing GearUP Booster for optimizing PAYDAY 3's network performance. GearUP automatically addresses No Network Connection issues caused by network congestion or instability through its intelligent adaptive technology. It selects the best connection path based on each player's actual network conditions, eliminating congestion effectively without requiring extensive technical knowledge. Notable advantages of using GearUP include:

Leading-edge boost technology.

Free trial available for new users lasting three days.

Flexible subscription plans based on desired duration.

Support for thousands of games beyond PAYDAY 3.

Dedicated technical support team available after purchase.
For console players, HYPEREV hardware product is recommended—an ethernet-connected game router that boosts all types of console devices with simple setup controlled via an app interface, providing enhanced Wi-Fi capabilities for better network environment performance. These products can be purchased through platforms like Amazon or AliExpress.
How to Use GearUP PC Booster
For a step-by-step guide on using GearUP PC Booster, please refer to the instructions below:
Step 1.Click the button below to download GearUP Booster.

Step 2.Search for Payday 3.
Step 3.Select your desired server and node.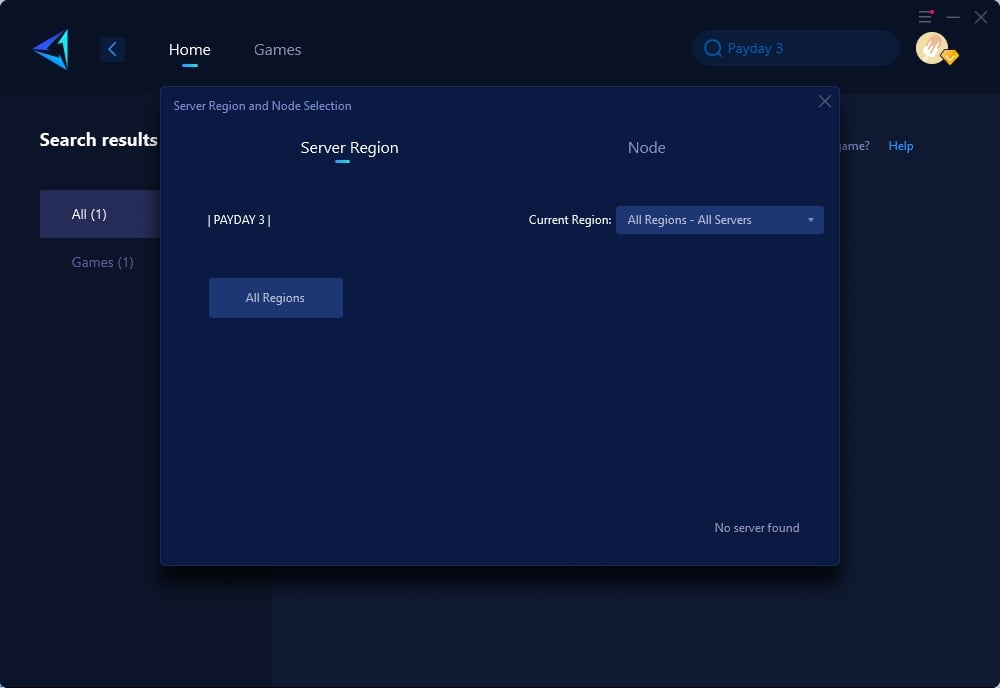 Step 4.Click "Confirm," and GearUP will optimize your network for you.
Conclusion
By following these troubleshooting methods and considering optimization tools such as GearUP Booster or using HYPEREV hardware products for consoles, players can potentially resolve PAYDAY 3 No Network Connection issues efficiently while enjoying smoother gameplay experiences.