[Fix] Battlefield 2042 Stuck On Loading Screen
2023-10-10
Battlefield 2042 is a first-person shooter game that takes players back to the series' iconic all-out warfare in its 6th season, 'Dark Creations', offering a grip on the unknown. But Stuck on Loading Screen' is a common issue faced by players where the game does not proceed beyond the loading screen due to potential problems in the user's system.
Resolve Battlefield 2042 Stuck on Loading Screen Issue with GearUP Booster
To address the 'Battlefield 2042 Stuck on Loading Screen' problem, utilizing a game optimizer service like GearUP Booster can prove incredibly effective. This application is a perfect game-changing tool that works meticulously to reduce latency, prevent packet loss, and stabilize network connection for gamers. With its optimization techniques, it can significantly address and prevent issues like being stuck on the loading screen, enhancing your Battlefield 2042 gaming experience.
The mechanism of GearUP Booster is simple. It optimizes your network settings and allocates bandwidth to the game, ensuring smooth, quick downloads and uninterrupted gameplay. It's not just about the technical benefits; GearUP Booster has a user-friendly interface compatible with all gaming platforms and supports over thousands games. Additionally, GearUP Booster's exclusive Adaptive Intelligent Routing technology reduces packet loss, promoting efficient and stable gaming connectivity.
Step1. Click the button below to download GearUP Booster.


Step2. Search for Battlefield 2042.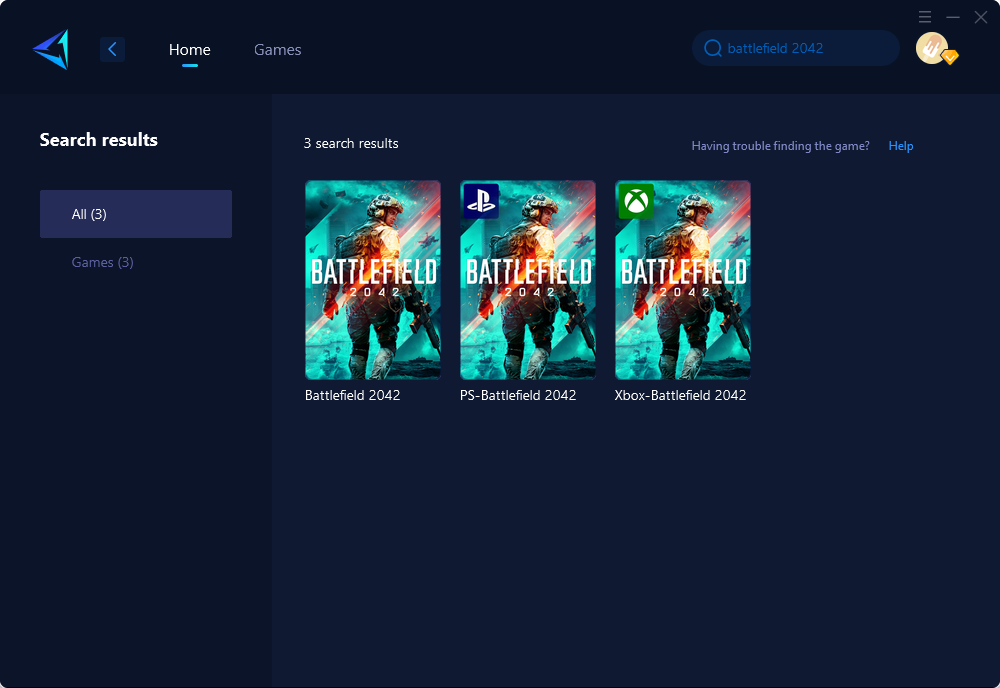 Step3. Select the server and node.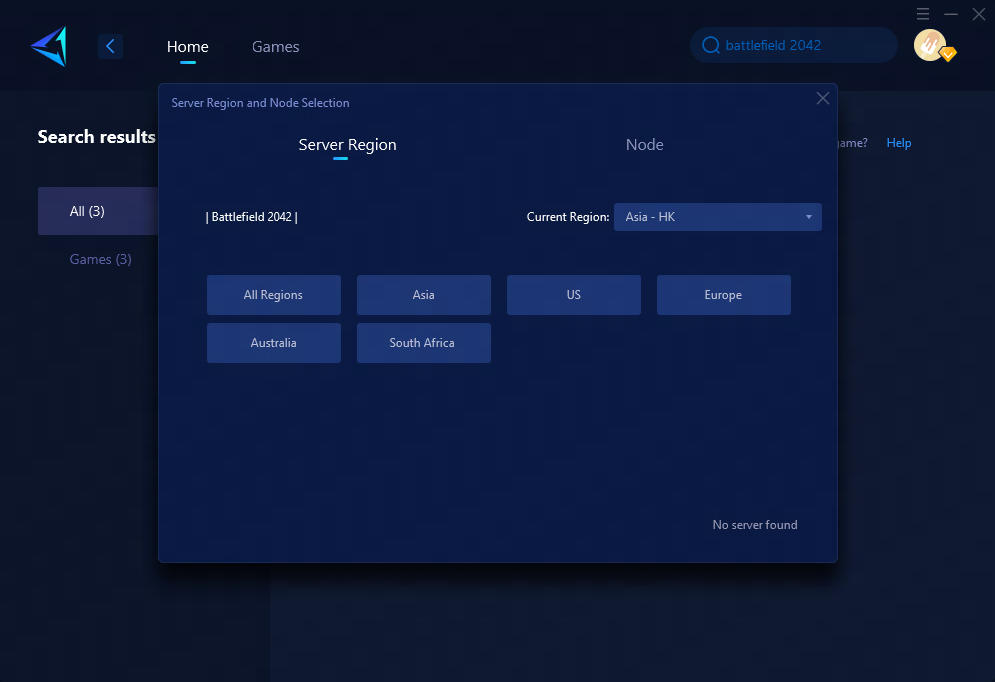 Step4. Click confirm, and GearUP will automatically optimize your network.
For console gamers looking to enhance their gaming experience without relying on a PC, HYPEREV by GearUP offers a solution. This network optimization hardware connects to both the router and console using an ethernet cable, allowing for stable and efficient one-click boosting. Notably, it provides the same boosting capabilities as a PC booster, presenting players with an alternative choice. Interested buyers can now find it available for purchase on Amazon or AliExpress.
With GearUP Booster, you can move past the loading screen, plunge into the dynamism of Battlefield 2042, and relish the all-out warfare of its 6th season, 'Dark Creations'.
Other methods
1. Update your Graphics Driver
If you don't update your graphics driver regularly, one of the consequences you may face is Battlefield 2042 getting stuck on the loading screen indefinitely. To resolve this issue, you will need to uninstall the graphics driver from the device manager and then perform a clean installation. Here are the steps:

Visit the support websites of NVIDIA or AMD and download the latest driver for your graphics card.
Right-click the Windows logo on your taskbar and select Device Manager.
In the device manager, expand Display Adapters and right-click your graphics card.
Select Uninstall and follow the on-screen instructions to uninstall it. You may need to restart your computer.
Double-click the graphics driver file you downloaded in step 1 to install it.
2. Restart your Computer with a Clean Boot
A clean boot is a technical term that refers to the process of preventing unnecessary background services from running when you start your system. This can help conserve memory and improve internet speed. Here's how to perform a clean boot:

Press Windows+R to open the Run dialogue.
Type "msconfig" in the Open box and click OK. This will open the System Configuration app.
In the System Configuration app, navigate to the "General" tab.
Uncheck the "Load startup items" box.
Click the "Services" tab.
Check the "Hide all Microsoft services" box. This will remove necessary system services from the list, leaving only other services that can be safely disabled.
Click the "Disable All" button, and then click OK.
Restart your computer.
Launch the Battlefield 2042 game after the computer restarts.
By performing a clean boot, you can optimize your system's performance when playing Battlefield 2042.
3. Close all Unnecessary Apps
Certain applications, such as your browser, have the tendency to diminish internet speed and consume precious system resources. To optimize your gaming experience, it is advisable to disable unnecessary apps using the task manager.
To do this, right-click on the taskbar and open the Task Manager. Within the Processes tab, locate any redundant apps, right-click on each one, and choose "End Task." Once you have completed this, close the task manager and restart the game. Verify if this resolves the issue of being stuck on the loading screen in Battlefield 2042.
4. Disable All Overlay Apps
Overlay apps like the Xbox game bar and Discord overlay are unnecessary apps that can cause problems on your computer. They can cause conflicts with certain games like Battlefield 2042, preventing you from logging in. To fix this, follow these steps:

Open the Start Menu and launch Settings.
Navigate to the Gaming section.
Click on Xbox Game Bar on the left side and turn off the toggle button.
If you have the Discord app, open it and disable the Discord overlay.
Go to Settings and select App Settings.
Choose Overlay and enable the in-game overlay option.
Close the app and reopen Battlefield 2042.
Conclusion
This article discusses Battlefield 2042, a first-person shooter game popular for its all-out warfare experience, and addresses a common issue faced by players of being stuck on the loading screen. To resolve this, it suggests using GearUP Booster, a game-changing application that optimizes network settings for smooth gameplay and stable connection. Other solutions mentioned are updating graphics drivers, restarting the computer with a clean boot, closing unnecessary apps, and disabling all overlay apps. The article also highlights the advantages of GearUP Booster, such as its user-friendly interface, support for a myriad of games, and a free three-day trial for users.